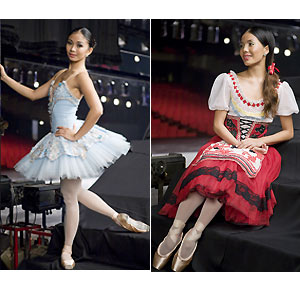 ---

Ballet Philippines brightens the holiday season with the announcement that ballet and live music will once again return to the Cultural Center of the Philippines' Tanghalang Nicanor Abelardo for performances of Alan Hineline's Coppélia. The Manila Symphony Orchestra, under the baton of conductor Jeffrey Solares, will bring Léo Delibes soaring score to life for a selection of its performances.

The partnership is the result of the generous support of individual and corporate donors who support artistic directors Alan Hineline and Max Luna III's vision to bring live music to Ballet Philippines' performances on an ongoing basis. "This is a very special opportunity. We are thrilled at the outpouring of support for our dream of bringing live music to BP on an ongoing basis. It's a wonderful holiday gift for our audiences and our dancers alike," said Hineline.

As one of the world's most popular classical story ballets, Coppélia's sentimental comic story is beloved by ballet audiences the world over. As the story unfolds, Dr. Coppélius, the eccentric toymaker, has created the lifelike Coppélia doll and wishes for nothing more than to bring her to life. He imagines that his dream has finally come true, but has merely been caught up in the tomfoolery surrounding a lovers' tiff. In the end, love triumphs over all in this comedy of mistaken identity. The finale is a breathtaking celebration of the lovers' marriage. Coppélia is an enchanting family ballet, for audiences of all ages, making it a perfect holiday treat!

Designs for the whimsical sets are by Mio Infante; Eric Pineda has created costumes that will transport audiences into the ballet's 19th century.


LIVE MUSIC DATES:

Friday, December 12, 8:00 p.m.

Saturday, December 13, 3:00 p.m.

Saturday, December 13, 8:00 p.m.

Sunday, December 14, 3:00 p.m.


For ticket inquiries, call Ticket World at 891-9999 or the CCP Box Office at 832-3704. Interested parties can also contact Ballet Philippines at 551-0221/551-1003/832-3689/832-6011 for more information.
ADVERTISEMENT - CONTINUE READING BELOW