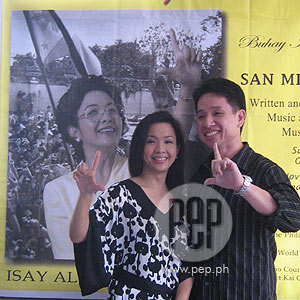 ---
Buhay Isang Awit Foundation Inc. will be restaging the firstmusical about the life of former President Cory Aquino next month at theMeralco Theater. Those who missed the first run of Cory,the Musical have another chance to watch this musical play when it ismounted from January 16-17, 2009.

Over 70 cast members are tapped to take part in this play, which is the seventh musical project mounted by Buhay Isang Awit Foundation. Former MissSaigon star Isay Alvarez plays the character of Cory, while Sherwin Sozonplays the late former Senator Benigno "Ninoy" Aquino. Isay's husband,Robert Seña, is chosen to take the role of the late former President FerdinandMarcos while Pinky Marquez plays Imelda Marcos. Rito Asilo is also cast asSenator Aquilino "Nene" Pimentel while Tommy Abuel plays a reporter who documentsthe tumultuous Martial Law period.
Mrs. Bing Pimentel reveals that she was inspired to create amusical play about the first female President of the Philippines when shelearned that Mrs. Aquino was diagnosed with colon cancer. She recalled that theformer President was impressed when Buhay Isang Awit Foundation mounted theplay Pag-ibig sa Bayan. This production was based on writings of SenatorAquilino "Nene" Pimentel about his daunting experiences during Martial Law,especially when he was detained four times by the military.


This time, the Foundation offers Tita Cory with her own musical play that features 20 original songs composed by Mrs. Bing Pimentel. Nestor Torre directsthis production while Leo Quinitio is musical director, conductor, andarranger.
Nestor and Isay first worked together in Magsimula Ka, another Filipino musical that Torre co-wrote and directed with award-winning composerGines Tan. Isay was among the young and aspiring stars who auditioned to playthe female lead role in Magsimula Ka.
ADVERTISEMENT - CONTINUE READING BELOW
The musical served as Isay's stepping stone to stardom.Along with several others featured in Magsimula Ka, which includedRobert Seña (now Isay's husband), she was cast in the initial London productionof the hit musical, Miss Saigon.

After their long stint in the West End production of Miss Saigon, Robert andIsay decided to go back to the Philippines so their children could grow up in atypical Pinoy setting. They also wanted to share what they learned abroad withother Filipino talents. The couple then put up a talent development studiocalled Spotlight Artist Center.

They asked their mentor, Nestor Torre, to teach a workshop that combinesacting, scriptwriting and directing. Past enrollees include Miriam Quiambao,Lorenzo Mara, Mike Sandejas and Robert himself, among others.

In a previous interview with PEP (Philippine Entertainment Portal), Isayrecalled how she was chosen to play the lead character in this musical play."We were at the Center when Nestor called me and asked me to face the mirror.Ginulo-gulo niya ang aking buhok, pagkatapos sabi niya, ikaw na! Ako na angalin? Yun pala, ako na ang Cory."

For ticket inquiries to Cory, the Musical call Shiela at 851-3120 or Ticketworld at 891-9999.

Performances: January 16-17, 2009 (8 PM)

Venue: Meralco Theater, Ortigas Avenue, Pasig City



ADVERTISEMENT - CONTINUE READING BELOW