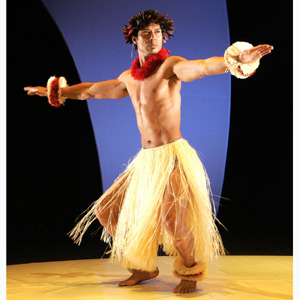 ---

Fresh from its off-Broadway successful run, I LAND starring actor-hula dancer Keo Woolford will be staged in the Philippines starting January 22, 2009 (gala night opening at 8 pm). Regular performances are slated for January 23 and 24 (8 pm) and January 25 (3 pm) at the CCP Tanghalang Aurelio Tolentino (Little Theater).


I LAND is Keo Woolford's moving search for the meaning of heritage ina post-modern world weaving together traditional Hawaiian hula, hiphop, Hawaiian talk story and spoken word. In thissemi-autobiographical journey, Woolford chronicles his first exposureto the hula and how he came under the instruction of his idol, whom hedubs the "Hula god." He also describes his fleeting brush with fame asa member of a boy band that almost hits the big time; his subsequentdescent into a world of drugs and partying; and his rediscovery of thedance that connects him to both his culture and to himself.


This one-man showwas created by Keo Woolford in collaboration with director Roberta Uno,and co-commissioned by Asia Society and Ma-Yi Theater Company inassociation with Diverse Works. Its artistic team is composed of RobertCazimero (Hula choreography), Rokafella (Hip-Hop choreography), ClintRamos (stage design and costumes), Zachary Borovay (projection design),Josh Bradford (lighting design) and Elton Lin (sound design).


I LAND is presented by Cultural Center of the Philippines, in cooperation with the Asian Cultural Council Philippines (ACCP).

This fundraising activity spearheaded by the ACCP is for the benefit of the ACC Philippine Fellowship Program that gives grants to individuals and cultural institutions in the Philippines for international exchange activities in Asia and the United States in various fields of the arts. It shall also benefit the Makiling Academic and Research Institute for the Arts Scholarship which represents the CCP's continuous development of young Filipino artists by providing financial assistance for their college education. The top students of the graduating class of the Philippine High School for the Arts representing the six art fields will receive the MARIA Scholarship for Visual Arts, Music, Ballet, Folk Dance, Literature/Creative Writing, and Theatre Arts.


Keo Woolford is a multi-disciplinary artist, born and raised in Hawaii, who began dancing hula in high school. In 1999, he became a member of Robert Cazimero's Halau Na Kamalei. Since then, he has been performing hula with the halau and The Brothers Cazimero around the U.S. and Japan. His career in theater began in 1995 with his self-penned one-man show, He Hawai`i Au. He played The Councilor in East-West Players' production of Pacific Overtures and originated the role of Chang in EWP's world premiere of Heading East. In 1996, he garnered the Virgo Award for Best Actor for his role as Franco in In My Father's House.


A prolific songwriter, Keo wrote many songs and a number of other recording artists in Hawaii and Japan. His songs are featured in the films Kids In America and Americanese. His film and TV appearances include East Broadway, Hawaii, True Vengeance, and Happy, Texas. He is a graduate of William Esper in New York City and currently studies under Ivana Chubbuck in Los Angeles.


Ticket prices are P3,000 (Gala - Orchestra Center), P2,000 (Gala - Orchestra Side), P500 and P300 (Regular shows). 50% discount for students with I.D. and 20% for senior citizens. Call the CCP Box Office at 832-3704 or 832-1125 loc. 1409 or call Ticketworld at 891-9999.
ADVERTISEMENT - CONTINUE READING BELOW