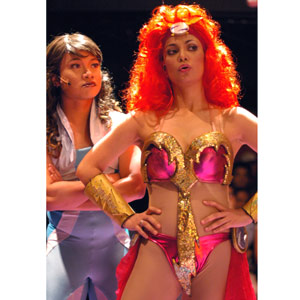 ---

On February 1, 2009, the Cultural Centerof the Philippines will become a hotbed for creativity when more than 2,000artists, led by the CCP resident companies perform at least 70 short previewsof upcoming shows included in the 2009 performance season at the CCP.
Dubbed as the biggest one-day performing arts festival, Pasinaya 2009: CCPOpen House Festival is the opening salvo of CCP's 40th Anniversarycelebration and National Arts Month in February.
Pasinaya 2009 will be held in all venues of the CCP. Activities andevents will be held indoor and outdoors, and will include Harbour Square andStar Theater for the first time.
The public is invited to pay what they can and see all they can in one day.Various activities will be held in different "zones" all over theCCP.
CCP Resident Companies will regale audiences with snippets of their performanceseasons in the Resident Company zone. Featured are Ballet Philippines,Bayanihan Philippine National Folk Dance Company, National Music Competitionsfor Young Artists, Philippine Ballet Theater, Philippine Madrigal Singers,Philippine Philharmonic Orchestra, Ramon Obusan Folkloric Group, TanghalangPilipino and the University of Sto. Tomas Symphony Orchestra.
Other such zones are the Music Zone, Dance Zone, Theater Zone, Film Zone,Literary Zone, Visual Arts Zone, a culinary zone and the Children's Zone.Pasinaya 2009 offers workshops, information booths, exhibits, Cinemalaya filmscreenings, puppet shows, storytelling, performance poetry, a culinary fair,cooking demonstrations, and an arts and collectibles market.
Pasinaya 2009 is an annual event of the CCP that seeks to increaseawareness of the CCP performance season and programs. This year's edition isexpected to once again draw crowds to the CCP as it offers a day offun and excellent entertainment through the popular pay-what-you-can,see-all-you-can scheme.
This Open House Festival is the first event in the year-long celebrationof the CCP's 40th anniversary.
The schedule of performances can be downloaded by clicking HERE. For other inquiries, contact the CCP Performing Arts Department at 832-1125 loc.1602-1607.
ADVERTISEMENT - CONTINUE READING BELOW