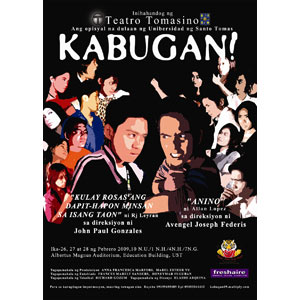 ---
Teatro Tomasino invites theater enthusiasts to watch its second major production for its 31st seasontitled Kabugan, a twin-bill production featuring plays that will surelyhit the New Year on a higher note. Teatro Tomasino is the universitywide theater guild of the University of Santo Tomas that discovered the rawtalents of actors Piolo Pascual and John Lapus, newsman Arnold Clavio, directorsWenn Deramas, Don Cuaresma and Erick Salud, and Palanca awardee Jose Victor Torre.
The first segment called "Kulay Rosas ang Dapit-Hapon Minsan sa Isang Taon" is RJ Leyran'sadaptation of John Guare's The Loveliest Afternoon of the Year. This literarypiece is set in a zoo where a boy and a girl meet, fall in love, and continueto meet in their same idyllic place. The unexpectedness of the play will bring viewers to a surreal world. The boy and the girl develop a madcap relationship andreality only steps in when the wife of the boy catches them and their fantasyworld is brought to an end.
The other segment is called "Anino" by Allan Lopez. It tells the story of a remorseful widow who had arelationship with her stepson and became pregnant. Her husband was found dead.Her guilt causes miscarriage and she eventually murdered her stepson. Untilthen, she realized that her horrible past continues to haunt her through herconscience.
Directed by two sophomorestudents from the Faculty of Arts and Letters, John Paul Gonzales and AvengelJoseph Federis from the College of Education, both plays introduce an artisticapproach to escapism, truth, and infidelity. Performing for "Kulay Rosas ang Dapit-Hapon Minsan sa Isang Taon" are Martin JosephRemos, Richard Gozum and Gexter Abad as Lalaki; and Judilen Eduvane, Sarah LeiMortell and Hazelyn Pereira as Babae. For "Anino,"Niña Belle Gavan will play the lead role, Luna,with Lian Kay Guzman as her alternate; Mikael Stephen Liwag and GiancarloPatelo IV as Luna's stepson, Maryo.
ADVERTISEMENT - CONTINUE READING BELOW
Kabugan will surely make your hearts beat fast through the romanticrendezvous in "Kulay Rosas" and the thrilling revelations in "Anino." It will bestaged on February 26, 27, and 28 with shows at 10 am, 1 pm, 4 pm and 7pm at the Albertus Magnus Auditorium, Education Building, UST, España, Manila.
Tickets are available at theTeatro Tomasino Office, room 4C Tan Yan Kee Building, UST. For more details and inquiriesplease contact Rayche at 09159455089 or Paul at 09053441412. You can also call 406-1611 loc. 8484.