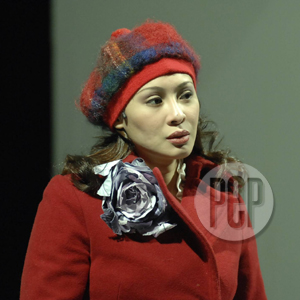 ---
Two one-act musicals are combined into a theatre concert that becomes a big hit on Broadway. This is the basic concept of Repertory Philippines' latest production entitled Song and Dance, which is directed by Joy Virata. It is not your typical Broadway musical since you will be touched by the story of lost innocence, survival, and rediscovery of one's self in a big city.
Part One, "Tell Me on a Sunday," tells the story of Emma, an English girl who comes to New York to find success and love. The unusual aspect of the musical is that Emma's story is told completely in song—a one-woman tour de force.
Part Two, "Variations," tells the saga of Joe who comes to New York from a little town in Nebraska. He used to be Emma's lover but he left her when he became drawn more and more into the sophistication of New York. Joe tells his story completely in dance supported by seven other dancers.
The two characters eventually find their way back to themselves and each other.
Carla Guevara-Laforteza brings her years of experience on stage and television to the exacting role of "Emma" in Song and Dance. Her previous theater experience includes a stint in the London production of Miss Saigon where she was cast as the understudy of the lead character Kim. She also won the Best New Artist for Television during the 2000 Philippine Movie Press Club (PMPC) Star Awards.
Meanwhile, Danny Marshall plays the role of Joe supported by the Powerdance, under the direction of Douglas Nierras who also choreographed some of Emma's songs. The second act is virtuoso jazz dancing to music written by Andrew Lloyd Webber for his brother.
Song and Dance opened last February 9 at the Onstage Theater in Greenbelt One and continues until March 4 with performances on Fridays and Saturdays at 8:00 pm and Saturdays and Sundays at 3:30 pm.
ADVERTISEMENT - CONTINUE READING BELOW
Tickets are at P550, P350 and P250. For reservations and inquiries, call 8870710 or Ticketworld at 8919999.