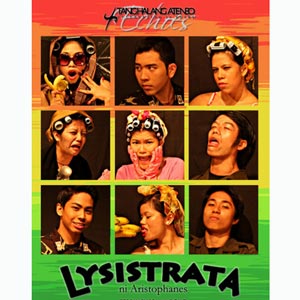 ---

Tanghalang Ateneo will keep audiences hungry for more as it closes its 30th season of plays with Lysistrata, a classic comedy of sex and war by the Greek comic master, Aristophanes. Translated into Filipino by Jose "Pete" Lacaba and given a contemporary look, the Ateneo production gives the play a distinct local flavor.

In the play, a band of housewives from all over Ancient Greece, led by the articulate Lysistrata, unite in a radical act of civil disobedience. Fed up with their husbands' constant departures to wage wars, these women make a sacred vow of solidarity: they will refuse to have sex with their husbands until the men of Athens and Sparta end the war.

Deprived of sex, the husbands become cranky, insulting and violent. The women, also suffering from sexual abstinence, try to escape from their fortress to join their husbands. Meanwhile, the old men and women of Greece, acting as the chorus, heat up their battle of derision and disgust. Lysistrata has her hands full and using desire as weapon, forges a peace treaty that ends both the war and the clash of the sexes.

Tanghalang Ateneo alumna Rizzy Alejandro plays Lysistrata. Ia Solis and Bea Gulinao alternate as Myrrhine, Nayie Caga-anan and Yani Ishikawa alternate as Kalonike, and Julia Motoomull and Ysab Yuzon alternate as Lampito. Kalil Almonte and Charles Yee alternate as Kinesias, and Brian Sy and Jigs Guballa alternate as the Lingkodbayan. The leader of the female chorus is Peanuts Valerio, while the leader of the male chorus is Tito Cosejo. Company actors play members of the two choruses.

Set design by Gino Gonzales and costume design by Marlon Rivera, while Dexter Santos choreographs. Lights design by Jonjon Villareal and graphics design by Reamur David who also collaborates with Dino Concepcion of Brownman Revival for the songs and the sounds design. The production is directed by Ricardo Abad, assisted by BJ Crisostomo. Together, these artists made sure the classic retains its spunk, transcending time and culture, and making the production uniquely Filipino.

Lysistrata runs from March 3 - 7 at 7 PM, with a 2 PM show on March 7, at the Rizal Mini-Theater of the Ateneo de Manila University. Tickets cost P250 for non-Ateneans and P220 for Ateneo students. For inquiries and ticket reservations, please contact Bea Gulinao (0917-826-9686) or Bettina Santos (0906-241-1509), or the Rizal Mini-Theater at 426-6001 local 512.
ADVERTISEMENT - CONTINUE READING BELOW