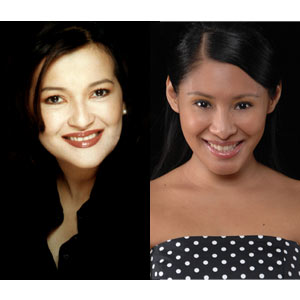 ---
Often described as a cross between atypical musical (described by Wikipedia as "a form of theatre (that combines) music, songs, spoken dialogue and dance)and a song cycle ("a group of songs designed tobe performed in a sequence as a single entity"), Songs for a New World by Jason Robert Brown is a collection ofstories about change and how people—from a wife who feels neglected by herhusband despite living a cushiony life to the wife of Santa Claus, tired ofplaying second fiddle after all these years—deal with it. There is light afterthe proverbial tunnel in the end of this revue.

But 9 Works Theatrical's staging of Songs for a New World is different.Director Robbie Guevara (who also directed Repertory Philippines' I Love YouBecause early this year) decided to weave the songs connected only by theme(instead of narrative or plot) to create a story. This production by thecountry's newest theatre company offers a fresh interpretation to a popularOff-Broadway hit while trying to remain true to its essence. But did itsucceed?



THE PLOT. Direk Robbie's restaging of the play revolves on fourcentral stories. Murray (Felix Rivera) suddenly finds his "ship"-hisbusiness-sinking, and his wife Veronica (Carla Guevara-Laforteza), starting tofeel abandoned, tries to get the attention of her husband by threatening tojump off the roof of their penthouse. David (Harold Cruz) is torn between twowomen: the hopeful lover Amy (Anna Santamaria) and the Lisa (Caisa Borromeo),the woman prefers yachts and champagnes over the moon and the stars. Sam "SteamTrain" Torres" (Felix) is a basketball player in the cusp of success, until atragedy changes the course of his career.


Meanwhile, Mrs. Claus (Pinky Marquez,alternated by Carla) is getting tired of feeling alone during Christmastime.Can Murray and Veronica settle their differences? Will David, Lisa, and Amyrealize what they truly want? Can the "Steam Train" mazimize his potential? Andwill Mrs. Claus ever get the attention she deserves from Santa, or will she asktheir elves to keep her warm?


ADVERTISEMENT - CONTINUE READING BELOW
THE VERDICT. Songs for a New Worldis part-song cycle. The story develops through song-which means there are nospoken dialogues in the play. For most parts, Direk Robbie succeeded in weavingand relaying his story into the songs even though their context was entirelydifferent. The message and theme of the play remain intact. 9 Work Theatrical'sSongs for a New World is still anexploration on change and how redemption can be found in the end if you knowwhen to take a stand and when to turn around after hitting a wall, as JamesRobert Brown said. Direk Robbie made use of projected city landmarks,backgrounds, and other visual aids to help tell the story.

However, the cracks were still evident; the songlyrics still reveal the original intention of the musical. For instance, "Onthe Deck of a Spanish Sailing Ship, 1492" was presented as Murray's lament overthe fall of his business, but its lyrics (about the sinking of a Spanish ship,with the captain as the main "character") betrayed the reinterpretation. Butthe able cast, some of the best talents in Philippine theater, makes up forthese faulty lines. Felix, for instance, demonstrated his vocal and acting chops with some of theplay's most rousing songs.


However, Pinky, hands down, got the loudest applause of the night for playingMrs. Claus. She showed spunk as the often forgotten Mrs. Claus in"Surabaya-Santa," her only solo number in the musical.


For her part, Carla, playful andtragic as the pampered but neglected wife, was in "Just One Step" (her take on"Surabaya-Santa was also well-applauded, but it lacked the world-wearinessMarquez exhibited). This shows that the production would have worked without DirekRobbie's story- Pinky, Felix, and Carla were enough to sell the material as amusical-slash-song cycle.

9 Works Theatrical's Songs for a New World is still anengaging production, but you don't really have to follow the "story" to enjoyit; you can appreciate it one song at a time.
ADVERTISEMENT - CONTINUE READING BELOW
Watch this musical extravaganza at the Carlos P. Romulo Theatre, RCBCPlaza, Ayala Avenue cor. Sen. Gil Puyat Avenue, Makati City.
Shows are scheduled on
May 8
and
May 9
(8:00 pm) and
May 10
(3:30 pm).
For tickets and inquiries, call 9 Works Theatrical at 557-5860 /0906-331-5961 or visit www.9workstheatrical.com, or call TicketWorld attel. 891-9999.