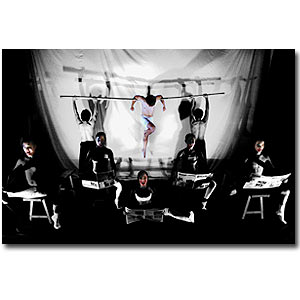 ---
From June 25 toJuly 5, Wifibody, an annual independent contemporary dance festival now on itsfourth year at the Cultural Center of the Philippines, will celebrate theevolving body. Festival director Paul Morales, long time artistic director ofcontemporary dance group Airdance, says, "We invite everyone to be part of thistwo-week festival where we explore how contemporary dance is evolving, howFilipinos can access this kind of dance, as well as how and where we want tobring it."
The festival willfeature the evolution of past Wifibody participants, such as Rhosam PrudenciadoJr., former competition winner and grand prize winner of the Yokohama Solo xDuo + competition in Japan. Winners and competitors of past competitions willperform in the "2nd Step" segments.


Morales points out: "We want to see their evolution now thatthey're done with past competitions. This segment helps ensure that there is life for our dancers after theycompete. Audiences willget a chance to see how these artists are coming into their own, how they moveon from being young into maturing artists."
Wifibody also aimsto showcase the evolution of how Filipino contemporary dancers connect witheach other and with dancers globally, as with invited Japanese guest artist,Maki Morishita, who will be performing in a show with Ballet Philippines 2 alumni.
These performanceswill be in addition to evening performances in the IndepenDance segment. This segment features different groups suchas Airdance, Myra Beltran Dance Forum, UP Dance Company, Kahayag CommunityDance and Theater Company (Koronadal City), Dance-Pull (Bacolod), and LocsinDance Workshop (Davao City).
Aside from theevening shows, a host of other performances and activities will be presentedthroughout the day and all over the CCP. There will be a photoexhibit and two plenaries where artists, educators, dance enthusiasts and thepublic are invited to discuss contemporary dance and the evolving body.
Up and comingchoreographers will be highlighted in the New Choreographers Competition, acompetition solely dedicated to the solo and duet form that was spearheaded andhas been nurtured by contemporary dance advocate Myra Beltran, artisticdirector of Dance Forum.
ADVERTISEMENT - CONTINUE READING BELOW
Allowing access to contemporarydance is also of importance to the festival organizers. For this reason, high schooland college based dance groups from all over the country will have a chance toshine in the Emerging TalentShowcase. Contemporary dance workshops will be held and are open to all dancepractitioners and anyone who is interested to learn more about contemporarydance (even without dance backgrounds).
There will even be"street dance parties" at the driveway encircling the CCP fountain featuringgroups like Krump Pinoy. Other uniqueperformances include a series of "Dance On Site" and "In Focus" shows wheredancers perform at locations all over the CCP, including the escalator of theMain Theater Lobby.
Film enthusiasts and filmmakersinterested in the use of dance in film (and vice-versa) can catch screenings ofdance films. This year's festival alsomarks the first Uncensored Bodies Dance Film competition where judges includeformer Ballet Philippines danseur Nonoy Froilan and filmmaker Tad Ermitaño.
Wifibody IndependentContemporary Dance Festival 4 is presented by the Contemporary Dance NetworkPhilippines (a member of World Dance Alliance); the Cultural Center of thePhilippines (as part of the Brave New Works series in celebration of its 40thanniversary) , and the National Commission for Culture and the Arts; incooperation with Japan Foundation Manila.
For schedules and details, call 832-1125loc. 1801 to 1808 or 832-3681 or log on to www.geocities.com/wifibody. Tickets available at CCP Box Office 832-3704and all Ticketworld outlets (Tel. No. 891-9999). Day passes and festival passes are available.