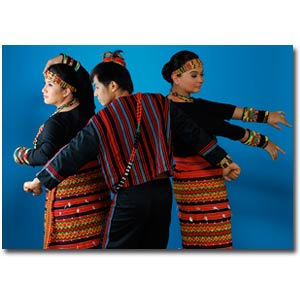 ---
Philippine Opera Company's (POC) hit show Harana tours the Netherlands on June 8-15, 2009. A first for the country's premier operacompany, Harana will also have a special performance at Theater de Compagniein Amsterdam on June 11 at 7:30 p.m.
Harana features eightof the country's highly celebrated singers: AnaFeleo, Deeda Barretto, Karla Gutierrez, Florence Aguilar, SherwinSozon, Lawrence Jatayna, Noel Rayos and Miguel Castro.
The term "harana" (serenade)refers to the traditional form of courtship where a man woos a woman'saffection by singing underneath her window. In the 1920s, harana or kundiman becamea mainstream musical style, with many popular performers including Diomedes Maturan and Ruben Tagalog performing it.
Harana takes itsaudiences to a spectacular cultural journey showcasing the very best ofPhilippine music. From the indigenous Cordilleras and pre-colonial period tocontemporary and fusion, each musical suite is theatrically presented withauthenticity and visual excitement.
The show consists of sixsuites: Igorot, Maria Clara, Rural, Muslim, Folk and the Contemporary. The repertoire includestimeless classics like "Bituing Marikit," "Dahil Sa Isang Bulaklak," "Pamaypayng Maynila," "Iyo Kailan Pa Man," "Kalesa," "Ang Maya," "Ano Kaya AngKapalaran," "Dumbele," "Ay Salidumay," "Waray-Waray," "Sa Kabukiran," "ManangBiday," "Atin Cu Pung Singsing," "Pobreng Alindahaw," "Saan Ka Man Naroroon,""Gaano Ko Ikaw Kamahal" and "Hindi Kita Malimot."
The creation of each Harana suite is a product of thorough research with the commitment topreserve indigenous Philippine music and its appropriate dance and folklore.
Direction by Kokoy Jimenez, music arrangements bymulti-awarded composer-arranger Von deGuzman, choreography by Irina Feleoand costume designs by Zenaida Gutierrez.
Harana is produced in cooperationwith the Yuchengco Group of Companies, Narda's, Dita Sandico-Ong, Shangri-laPlaza and Onesimus.
Harana (the album) isalso now available for purchase, exclusively distributed by Pixelgrain.