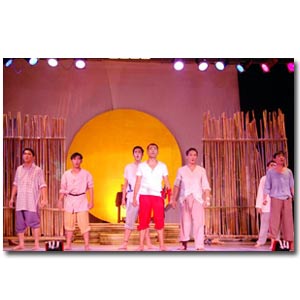 ---
Gantimpala Theater, in cooperation with the National Parks Development Committee (NPDC), celebrates the one-hundred-eleventh year of Philippine independence with a special production of Charley dela Paz's Silang Magigiting. It will be staged for free this Thursday, June 11, Concert at the Park Open Air Auditorium, in Rizal Park, Manila.


Silang Magigitingis a play about the story of Victor and Lito, two brothers who wasbrought back to time by a magical history book. The book brought themto the time when the country was struggling to fight for its freedom.In their time travel, they will get to the meet the many nationalheroes that were instrumental to the quest for the country's forindependence.

Performinglead roles in the play are John Rhoderey Dizon as Lito, Kristian Chuaas Victor, Hermie Concepcion as Tandang Sora, Roeder Camañag as Andres Bonifacio, Pamela Hundana as Gregoria de Jesus, Billy Parjanas Apolinario Mabini, Paul Sy as Temyong, Joey David Lucio,Niesty Lopera as Dodong and Abel Napuran as Teniente Lacalle.

Gantimpala Theater is a thirty two-year old dramatic arts company widely known for producing the Four Classics Florante at Laura, Kanser (Noli Me Tanagere), Ibong Adarna, and El Filibusterismo.These plays are based on subjects that are being studied by high-schoolstudents. Aside from these, the company also produces English classics,revivals of contemporary dramas, and children's musicals..

Playing the lead role as Victor is Kristian Chua, one of the young members of the Gantimpala Actors' Company.

'Thisis my first time to play a major role. As a young actor, I know have avery good place to start—from scratch," says Chua. "I've been part ofstage plays as an ensemble for about three years and had always dreamtof playing lead someday. But now that I am doing it, I got to realizethat it's not that easy as it looks."
ADVERTISEMENT - CONTINUE READING BELOW

Annually,Gantimpala Theater aims to bring out the nationalistic spirit ofaudiences through its Independence Day productions. Silang Magigitingstands out from the previous presentations of the company because ofits touch of modernity brought by the characters of Victor and Lito.

Director/productiondesigner and choreographer Roobak Valle says, "As students studyhistory, all they see are pictures of our national heroes, but in thisplay, they will see them as three dimensional figures. They willwitness the way they think, speak and even their simple nuisances. So Ithink that this will be a wonderful way to learn and appreciatehistory."

GantimpalaTheater and NPDC are partners in the propagation and appreciation ofPhilippine dramatic arts by presenting free plays in the Open AirAuditorium in Luneta. Aside from Independence Day shows, GT also stagesmajority of its season plays at the park.

"Ithas been the objective of Gantimpala Theater to bring theater closer tothe masses," explains artistic director Tony Espejo. "Throughproductions such as Silang Magigiting, we hope that we fulfill thisobjective of ours. You'll see in this play the valuable contribution ofour national heroes during the Philippine revolution. It highlightstheir greatness, goodness and love for our country. What better way tolearn and understand history but through this play."

Therest of the artistic team are Andy Villareal (lights design), RaymondTalavera (production manager) and Glendel Dacumos (stage manager).

Silang Magigiting will be shown on June 11, Thursday, Concert at the Park Open Air Auditorium, in Rizal Park, Manila. The performance starts at 7 pm.

Free admission.