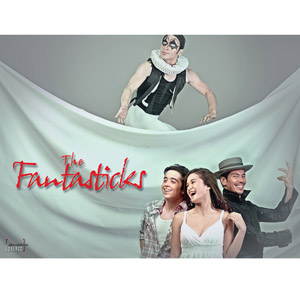 ---
Repertory Philippines is bringing something wonderfully refreshing: the musical Fantasticks. It'sa relief to know that somewhere and very soon, one can soak in some real goodsoul food.

This is not a "first" for Rep since this beloved musical was staged in theearlier days of the company. And on Broadway, it's been one of thelongest running productions in American theater history. What makes itmagical is the theme featuring two fathers who plot to get their children to get tofall in love with each other. They succeed, but not without theexpected dark side that is constantly threatening. However, asalways, Love triumphs in the end and one leaves humming "Try toremember..." and feeling very good indeed.

Repertory has been in the business of bringing good theater to audiences formore than forty years now. So it knows just the right formula for amemorable production: a good story with an exceedingly capablecast. Playing the lead role of the young girl is Julia Abueva, an amazing girl who at age thirteen, has already performed onstage in Singapore, doneconcerts before heads of state and foreign dignitaries, and bagged the ALIWBest Child Performer for 2007.

As the young man in Fantasticks, PJ Valerio comes to his role with not just hisboyish good looks, but with a lot of theatre experience. He has had leadroles in other musicals like First Name under Freddie Santos' direction, Mulan Jr. directed by Joy Virata. And last year, PJ was Matthewin the Repertory production of Altar Boyz.

Others cast members include Jake Macapagal as El Gallo, Jaime del Mundo and Didode la Paz who play the fathers of the young kids, Miguel Faustmann as theShakespearean actor, Red Concepcion as the Indian, and PJ Rebullida as themime.

Fantasticks will be shown at Onstage at Greenbelt One, Paseo deRoxas, Makati, from July 3 - 26, 2009 on Fridays and Saturdays at8:00 pm with Saturday and Sunday matinees at 3:30pm.


You may call the Rep officeat 8870710 or Ticketworld at 891999 for ticket inquiries. You may alsolog on at www.repertory.phand www.ticketworld.com.ph



ADVERTISEMENT - CONTINUE READING BELOW