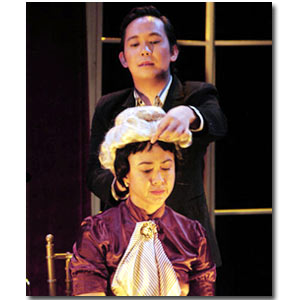 ---

The Virgin Labfest 5—a festival of untried, untested, unpublished and unstaged plays by both emerging and well known playwrights and directors—will run at the Cultural Center of the Philippines until July 5, 2009. The event is a joint venture of the CCP, Tanghalang Pilipino, and the Writer's Bloc Inc. with the support of the National Commission for Culture and the Arts and the Japan Foundation, Manila.


MAJOR PLAYS: CCP Tanghalang Huseng Batute


SCHOOL OF LIFE (Mga Dulang Walang Pinag-aralan)

July 4, 8:00 PM (Saturday)

July 5, 3:00 PM (Sunday)



1. MPC ( Mababang Paaralan ng Caniogan)

By Job Pagsibigan

Director: Sipat Lawin Ensemble

Humdrum pupil Felix Bakat is already the brightest student in the sub-standard Mababang Paaralan ng Caniogan or MPC. He and his two other friends, Erwin & Didai, had the misfortune of being the only three students to report to their class one stormy school day. Their teacher, the terrifying Miss Magnaye, prepares them for her teaching demo which she and her students are scheduled to present before their visiting school superintendent, Mr. Catacutan. On the day of the teaching demo, Erwin & Didai plan to steal from Miss Magnaye's stock of canned goods; a business the teacher keeps to augment what she earns from the profession she herself despises. But just when Mr. Catacutan is already enjoying the teaching demo, Erwin and Didai are found out. Miss Magnaye points to Felix as the one behind the conspiracy. How the children are eventually cleared of the mischief is no small help from the school's legendary ghost, Pilita and the violent storm that ties Pilita's fate to that of Miss Magnaye.



2. ANG HULING LEKTYUR NI MISIS REYES

By Tim Dacanay

Director: Hazel Gutierrez

A high school music teacher at the crossroads of life decides to retire. She faces her class for one last session and improvises a lecture on a topic she considers most important for her audience: sex.



3. ISANG MUKHA NG PANDARAYA

By Oggie Arcenas

Director: Rolly Inocencio

Isadora, a student who is about to graduate summa cum laude from a prestigious university is accused of cheating during an examination. The accuser is Amor, an underachieving student, and the campus slut. The two face-off before the Student Disciplinary Tribunal which is hearing the cheating case. As the hearing unfolds, secrets are revealed and a jaded society's value system takes the spotlight.


IT'S COMPLICATED (The Buhul-Buhol Trilogy)

June 24, 3:00PM & 8:00PM (Wednesday)

July 3, 8:00PM (Friday)

July 4, 3:00PM (Saturday)



1. SALISE

By J. Dennis Teodosio

Director: Roobak Valle

A laptop was stolen. In a desperate attempt to retrieve it, a soap opera writer discovers a life story that is stranger and juicier than the teleseryes he's been writing.



2. ANG MAMANUGANGIN NI REZ

By Clarissa Estuar

Director: Arlo de Guzman

Enter Pinay's world, which for most of the day is compressed into a small bag/shoe repair stall she manages at a mall. Here, even simple dreams seem out of reach, and simple Pinay constantly just fades into the background. She makes one last ditch effort for something she truly wants, or rather someone she truly wants only to question why she set her aspirations on that one man, of all people.



3. SO SANGIBO A RANON NA PIYATAY O SATIMAN A TADMAN

By Rogelio Braga

Director: Nick Olanka

Written by a Filipino playwright as an ars poetica to a Bangsa Moro freedom fighter Abdul Rahman Macaapar is a story of love, lost and remembrance. Stella, a hooker from the university belt during the Martial Law years, remembers the 1971 Tacub Massacre in Kauswagan, Lanao del Norte; Abdul Rahman who longs for a Ranao left to pursue a dream in Manila; and Aling Ella a spinster who remembers a lost love that haunts her like a ghost. So Sangibo a Ranon na Piyatay o Satiman a Tadman is both a story of how ordinary people struggle for love, self-respect, freedom and maratabat amid a nation that harbors a dark past and an invitation to a journey in one of the sordid histories of Filipino Nationalism against the Bangsa Moro people.



BLOOD SPORTS (Trilohiyang Dinuguan)

June 25, 3:00PM & 8:00PM (Thursday)

July 3, 3:00PM (Friday)

July 5, 8:00PM (Saturday)



1. KITCHEN MEDEA

By Kiyokazu Yamamoto

Directed by Toshihisa Yoshida

Kiyokazu Yamamoto's modern take on the Euripedes classic tragedy, Medea, takes place in a gloomy kitchen in a small Japanese abode. Originally written for famous Japanese actress Hiraizumi Hisa, who unfortunately passed away before the production even took place, Kitchen Medea's World Premiere is transported here at the Virgin Labfest. The main character played by a Filipina married and eventually separated from her Japanese husband. The consequences of this break up lead to tragedy and death. And yet this singular crime of passion is nothing compared to what is happening in front of her/our television sets.



2. DOC RESURECCION: GAGAMUTIN ANG BAYAN

By Layeta Bucoy

Directed by Tuxqs Rutaqio

With the desire to introduce positive changes to his community, Doc Resureccion ran for Mayor. Unfortunately, his cousin, Boy Pogi Resureccion ran as a nuisance candidate challenging Doc Resureccion's chances. Bearing gifts and promises of a better future, he tries persuading his cousin to withdraw his candidacy only to find out that the community he so wanted to help desires a different path for itself.



3. ASAWA / KABIT

By George de Jesus III

Director: George de Jesus III

Two middle-aged women, Via and Vanessa, confront each other about the man they both loved for more than 25 years. Through a scathing conversation, resentments and regrets surface like land mines forcing both women to evaluate the immutable choices they made in the name of love, the unbearable burden of hope, and the contentiousness of believing in a man's fidelity.



THE FAMILY THAT _______s TOGETHER

(Tatlong Dulang Walang Diyos)

June 26, 3:00PM & 8:00PM (Friday)

June 30, 3:00PM (Tuesday)

July 2, 8:00PM (Thursday)



1. BOY-GEL ANG GELPREN NI MOMMY

By Sheilfa Alojamiento

Directed by Carlo Garcia

Two kids, caught in adult infidelity games, took time off away from their errant father's house and spend a vacation one summer in their divorced mother's place in another city and get to know her and her girlfriend.



2. MALIW

By Reuel Molina Aguila

Directed by Edna Vida

How does one close a chapter still to be written? Five years after the forced-disappearance of her eldest daughter, a mother confronts this question. The play is set after her family celebrates her eldest daughter's 30th birthday.



3. CHERRY PINK & APPLE BLOSSOM WHITE

By George Kabristante

Directed by Paul Santiago

This is a document of the times when club entertainers in Japan used to pick yen from the walls of clubs to be remitted to their families back home for saving or for squandering. It zeroes in on former entertainers husband and wife Jay-Ar and Leizl and their dream to go back to Japan which has become an impossibility, given that the Japanese government has absolutely made it difficult now for anyone to work there as club entertainer. Hinting at Chekovian absurdities & humor, the characters continue dreaming and role-playing to relive the good old days. In laughing at themselves and acting "up" and "out" the dark humors and their memorable past in Japan, these two characters find their plight less painful to bear.



LIFE IS A TRAP (Three Plays in Search of Escape)

June 27, 3:00PM & 8:00PM (Saturday)

June 30, 8:00PM (Tuesday)

July 1, 3:00PM (Wednesday)



1. ISANG ARAW SA PERYAHAN

By Nicolas B. Pichay

Directed by Chris B. Millado

Two friends amble along a jologs Peryahan looking for a day's forgetting. The obvious is ignored as they look for nothing in everything. But the absent creeps up on them slowly and treacherously like a ride to hell.



2. PAIGAN

By Liza Magtoto

Directed by Sigrid Bernardo

Fagen ("Paigan"), an Afro-American soldier who deserted his camp to fight side-by-side with the Filipino revolutionaries, is wanted by the Americans for the price of $600—a hefty sum at the time. Desperate for money, Pedring captures Fagen and is set to behead him when Tacio, a former comrade, and the Filipina wife of the captive beseech him. The play explores a possible scenario posed by historical essays on the true-to-life story of the guerilla fighter who defected to our side during the Filipino-American War.



3. HATE RESTAURANTS

By David Finnigan

Directed by J. Victor Villareal

Hate Restaurants is a command. Hate restaurants. Hate them. This play follows the trials and tribulations of a small pancake restaurant during the biggest breakfast of the year. Head chef and restaurateur Louise is incapacitated after an unfortunate encounter with a giant rat, leaving waiters Louise and Billy and mild-mannered kitchen-hand Toby to handle a booking of 70 businessmen who are suspiciously picky in their requirements



VIRGIN LABFEST 4 REVISITED

June 28, 3:00PM & 8:00PM (Sunday)

July 1, 8:00PM (Wednesday)

July 2, 3:00PM (Thursday)



1. ANG KALUNGKUTAN NG REYNA

by Floy Quintos

Directed by Floy Quintos

Marcel de Alba, renowned Filipino hairdresser to international royalties, finds himself summoned to the Presidential Palace on the morning when President Yolanda Cadiz has declared Martial Law. Yolanda has plans that Marcel, with his courtly expertise, can help realize. Despite the seeming absurdity of Yolanda's plans, Marcel feels a sense of tragic duty to the beleaguered president. Ultimately, their folly proves their undoing. In three short scenes, Floy Quintos' play poses questions about the madness of power and conversely, the transformative power of madness.



2. ANG BAYOT, ANG MERANAO, AT ANG HABAL-HABAL SA ISANG NAKAKABAGOT NA PAGHIHINTAY SA KANTO NG LANAO DEL NORTE

by Rogelio Braga

Directed by Nick Olanka

An unsual rendezvous of two beautiful and sharp-tongued outspoken creatures living at the margins of our society. Take a peak on their engagement as they courageously travel- devoid of any inhibitions, political correctness, and social graces-that rough and 'older than history' roads of discrimination, hypocrisy, bigotry, social divides, corruption and unspoken violence to arrive in a decent friendship. Ang Bayot, ang Meranao, at ang Habal-Habal sa Isang Nakababagot na Paghihintay sa Kanto ng Lanao del Norte is a bitter yet funky peppered with a Radio Active Sago Project kick-ass take on the cruelties of our society that condones discrimination which is definitely not so cool.



3. UUWI NA ANG NANAY KONG SI DARNA

by Job Pagsibigan

Directed by Catherine Racsag

The story of a modern day family and how the mother is transformed into a heroine in her quest for a better life.


For more details, please contact the CCP-Performing Arts Department through Tel. No. 832-1125 loc. 1600 or 1607.


ADVERTISEMENT - CONTINUE READING BELOW