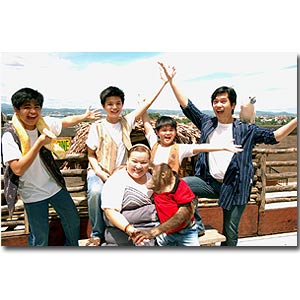 ---
Trumpets,the theater company behind the critically acclaimed productions of Joseph The Dreamer, The Lion, The Witchand the Wardrobe and Little Mermaid is back to producingmusicals that inspire, teach and entertain the whole family all at the sametime.
InN.O.A.H. (No Ordinary Aquatic Habitat), Trumpets retells the classic story ofthe Biblical patriarch and his famous ark with wit and humor, heart andcompassion, hope and joy, and of course, fun!
"Yes,we're back," declares returning Trumpets president Audie Gemora. "We've always work towards producing shows that areof the highest level of quality possible, are geared towards the family, andmost importantly, with stories that convey God's message of love. And if ever there's a time we need hope, it'snow and, if ever there were a story that best promises that hope, it's Noah."
"We'vealways tried to put a modern take on what would otherwise be an 'old' story,"explains writer and director Jaime DelMundo. "Aside from Noah's always relevant theme of hope and second chances,we address three of man's most vital relationships—man with God, man with hisfellowmen and man with his environment. Concern for conservation and ecology—these are real concerns here and now."
ADVERTISEMENT - CONTINUE READING BELOW
Originallyproduced and staged with puppets, this tale of a single man's faith andobedience against seemingly insurmountable odds will now feature a cast ofseasoned theater performers. Veteran actor, singer, producer and artist managerCarlo Orosa heads the list as thejovial and staunchly devoted Noah. Acclaimed star of West End's South Pacific Sheila Francisco is theculinary-challenged Mrs. Noah. An ensemble of the Philippines' finest theaterperformers plus some new exciting talents will join them.
Del Mundo teams up again with TheLion, The Witch and the Wardrobe and Little Mermaid production designer Mio Infante. Together they breathe new life into N.O.A.H.via imaginative staging, a fabulous set and colorful, whimsical costume designsnever before seen on Philippine stage. Musical director Rony Fortich's original music is lively, spirited, appealing and atthe same time moving and inspiring.
N.O.A.H.(No Ordinary Aquatic Habitat) opens at Meralco Theater on September 4 and willrun till September 27 with shows every weekend in between. For more information and show buyinginquiries, call TRUMPETS at Tel. Nos. 6354478, 0917-8842105, 0932-2705639or email trumpetsinc@gmail.com.
ADVERTISEMENT - CONTINUE READING BELOW