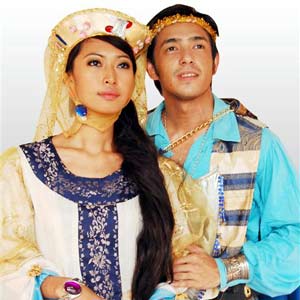 ---
GantimpalaTheater opens its thirty second season with Floranteat Laura, with Migui Moreno and Jhen Olivar playing the lead characters, under thedirection of Soxie Topacio.

Floranteat Laura is a Philippine literary classic; an awit made into a play and presented using the theater form of the komedya. The story is about thestruggles and love of Florante and Laura of Albania during the war between the Albanians and Moors.

"I am excited and nervous to do the role,"says Moreno."Excited because, this is my first time to work with Gantimpala Theater. When Iauditioned, I had no expectations. I was willing to take any part for as longthat I'll be given the chance to work with them. Being Florante comes as areally big surprise."

"Heis a good son, a romantic, devoted lover, and a warrior," describes Migui ofhis character. "In fact, being so in love with Laura proved to be his greatestweakness and Adolfo, his nemesis, used this to his advantage."
ADVERTISEMENT - CONTINUE READING BELOW

He continues, "Honestly,I am nervous because the role requires me to present so many emotions, not tomention my lines are really long and we have to deliver it with the right dicho. We even have batalla scenes. Whew! Despite all these, I am doing my best to givelife to this character and I hope that the people will be happy with myperformance."

Anotherlucky first timer is Jhen, who happens to be a professional ramp, commercial andfashion model prior to bagging the role.

Sheshares, "When I auditioned for Gantimpala, I was not expecting anything and Idid not even expect that I will pass the audition because it is my first time.To my surprise I got the role of Laura, and it's not just a simple role, it's alead role. I will play Laura from the heart and I'm really positive about theoutcome."

"Iam also happy that the people from Gantimpala are very considerate andfriendly. Every one is approachable, from our director down to the staff. Andevery rehearsal day is a learning experience and I am very much inspired to besurrounded by dedicated and disciplined theater artists," adds Jhen.
ADVERTISEMENT - CONTINUE READING BELOW

The Christiancharacters are Perry Escaño (Adolfo),Jose Jeffrey Camañag (Haring Linceo), Richard Manabat (DukeBriseo), Roselle Buenaventura (ReynaFloresca), Billy Parjan (Antenor),Glendel Dacumos and Alfred Urieta (alternately portraying Menandro), with Abner Delina Jr and Raymond Talavera(alternately playing Batang Florante/Tagapagsalaysay).

Representing the Moorsare by Berl Angeles (Aladin), Marjorie Lorico (Flerida), Alex Guerrero (SultanAli-Adab), Molts Meneses (Osmalik), and Vic Ferrer (Emir).

HelpingDirek Soxie bring the kingdoms of Albania and Persia to life are Roeder Camañag(Assistant Director), Joseph Mattheu (Lights Design), Norman Peñaflorida (SetDesign), Gardy Labad (Music Composer), Noel Cabangon (Arranger), NemiPagtakhan/ Alex Guerrero (Choreographers/Speech Coaches), Pamela Hundana (ProductionManager), and Michael King Urieta (Stage Manager).

TonyEspejo, artistic director states, "Beyond the romantic story between Floranteand Laura, Aladin and Flerida, Balagtas' awit is a well-disguised commentary onthe ills of the society during the Spanish regime. It may be situated in the fictionalkingdom of Albaniabut the conditions it depicts were realities taking place in the Philippinesduring its years of struggle for freedom. Despite the freedom that weexperience now, the ills are still around and sadly, continue to escalate. Wehope the eyes and minds of the young will be opened with regard to theserealities. Through this play, we hope that they become more vigilant in doingtheir share to make our nation great again."
ADVERTISEMENT - CONTINUE READING BELOW

Performances areslated on August 1 (6 pm) Open Air Auditorium, in Luneta, Manila, August 7, 8, 9,14, 15 and 16 (10 am/2 pm), AFP Theater in Quezon City and August 21, 22, and 23(10 am/2 pm), SM Southmall in Las Piñas.

Forinformation, bookings and ticket reservations, please call 899-5745, 896-3503,474-5198. Or, write to: gantimpalatheater@yahoo.com.ph