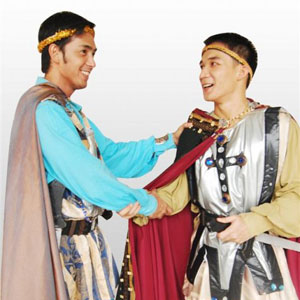 ---
Gantimpala Theater's 32nd season opener is the much revered awitFlorante at Laura, under the direction of Soxie Topacio. In this period play, Alfred Urieta portraysMenandro, the loyal best friend of the Albanian prince.

For the past seven years, Urieta has been part of Tony Espejo's drama company.He started with taong bayan roles prior to getting "speaking parts" thatincludes Bugan in the Aliw Awards 2005 Non Musical Production The God Stealer,Sergeant Tirona in Bombita, one of the revival plays presented during the 1st Pearl Theater Festival, and as Basilio, in El Filibusterismo, his most favoriterole and biggest acting break.

"What attracted me to do theater is the fact that it allows me to explore thedifferent facets of my personality, and do the things I like which is primarilyacting, then production work," begins Alfred. "There is a whole process ofcreation when you are assigned to a role, it's almost like you conceive it fromyour mind, and then you give it life and emotions. I enjoy doing theater stuffand I don't mind whether I do a major or minor character."

Being Menandro, the best friend and trustworthy comrade of Florante is a partthat Urieta takes pride in doing and he is very much aware that this is not a"small" part.

"When I found out that I'm doing it, my first reaction was, 'Oh? Menandro,cool!' I can't help but wonder why, at first," he relates. "When myapprehensions died down, what stuck in my mind is that I have to give my best.As an actor, I must give whatever my director expects from me. Though this rolehas been performed before, people can expect a big difference with myportrayal."

"He is a very stimulating director," reveals Alfred when asked about SoxieTopacio. This marks the third time that they have worked together. "He gives you simple notesafter every rehearsal. The subtext of those notes is actually, you have to givemore, you have to do more. With him, you can do whatever you want, and thenhe'll give his comments if he thinks you're going over board or if what you'regiving is not enough."

How is Migui Moreno as Florante? "He is doing well," he avers. "He is alsoworking hard for his role. We are helping each other to establish rapport sincewe play best friends. We have to jive and that must be seen and translated onstage."

He adds, "You see, if you read the awit, we are best friends since our days asstudent in Athens. We grew up together. We fight as a tandem in the samebatalla and we do it because we love our home country, Albania. Personally,Migui and I talk a lot, share jokes, and help each other out in our scenes."

As one of the senior apprentices of Gantimpala Theater's Actors' Company, heappreciates the fine comments given to him by some of the senior members withregard to his acting prowess.

"Wow! That's a compliment," he reacts. "With every role that they give me, Ialways worked hard. I think, the company noticed my commitment to do well inacting. So, when I finally got the chance to get a tough role (Basilio in ElFilibusterimo), I gave it my best and luckily, nagtuloy-tuloy na angmagagandang characters. Frankly speaking, any actor, especially someone like mewho is still a relative newbie, their confidence in me and my capabilities isvery inspiring. Maganda pala yung ginagawa ko, and because of their vote ofconfidence, I refuse to be complacent. I will continue to learn, give my bestand be professional, since that is what is expected of me."

What can the audiences expect from this season's Florante at Laura? "I thinkthey will have a better appreciation and understanding of this literarymasterpiece by Francisco Balagtas. They will feel definitely feel the actors.Direk Soxie and our assistant director, Roeder Camañag is working double timeto ensure that we will give every one a good show. Makikita nila na this isGantimpala Theater, and that every one will be getting their money's worth."

In the nearest uture, the other roles he wishes to do for Gantimpala areAdolfo or Aladin, Elias in Kanser (Noli Me Tangere), Don Juan in Ibong Adarna.

Aside from acting, Urieta also does stage management work. He occasionallyappears on TV. He is also a swimming instructor.

He ends the interview by saying, "I hope that people will have a wonderful time when they watchFlorante at Laura. This is a theater experience that you will not forget. Asidefrom the romantic love story of the two main characters, our company presentsit as a komedya and I am sure, the audiences will remember and enjoy themarches and grand batalla. I say peace to every one!"

Gantimpala Theater's Florante at Laura performances are on August 1 (6pm) OpenAir Auditorium, in Luneta, August 7, 8, 9, 14, 15 and 16 (10am / 2pm), AFPTheater in Quezon City and August 21, 22, and 23 (10am / 2pm), SM Southmall inLas Piñas.


For information, bookings and ticket reservations, please call 899-5745,896-3503, 474-5198.


ADVERTISEMENT - CONTINUE READING BELOW