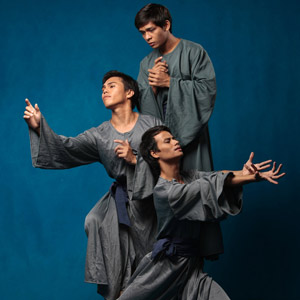 ---

Ballet Manila opens its 14th performance season with the most exciting treat ever—Halo-Halo Extra Special—a delightful mix of original Filipino ballets, going onstage from August 21 to August 30 at the Aliw Theatre, Star City Complex, Roxas Boulevard, Pasay City.

Halo-Halo Extra Special features the works of choreographers Osias Barroso, Ernest Mandap, Augustus Damian III, Gerardo Francisco and Sergey Vikulov, plus a special tribute to the late dance guru Tony Fabella.

Damian, who is collaborating with Ballet Manila for the first time, has created three new ballets for the season-opener. Sotto Voce, M.A.Z.N. and Reconfigured have abstract themes yet are powerful and fluid.

The France-based Mandap, who has been creating works for Ballet Manila every year since the Halo-Halo series began, this year offers Gomburza, a tribute to martyred Filipino priests Mariano Gomez, Jose Burgos and Jacinto Zamora whose 1872 execution paved the way for social reform.

Halo-Halo Extra Special also marks the victory of BM's very own senior soloist Gerardo Francisco whose Balikbayan (now retitled OFW or Overseas Filipino Worker) won the grand prize at the recently concluded 4th WiFi Contemporary Dance Festival's Young Choreographers Competition.

Yet another treat is Madness, a solo choreography for Ballet Manila artistic director and principal dancer Lisa Macuja-Elizalde by People's Artist of Russia Sergey Vikulov, with music by Alkan.

Finally, BM restages the final choreographic work of dancer, teacher and choreographer Tony Fabella, the much-loved Ang Mahiwagang Biyulin (The Enchanted Violin) featured in the company's ground-breaking ballet trilogy, Tatlong Kuwento Ni Lola Basyang. The magical tale focuses on the themes of hard work, justice and family values.

Prima ballerina Lisa Macuja-Elizalde notes, "Tony Fabz's generous spirit will live on forever in his dances and Ballet Manila is honored to be able to showcase such a genuine Fabella ballet in Ang Mahiwagang Biyulin. Like all of his ballets, it is exceptional in its musicality, charm and its uncanny ability to make everyone teary-eyed from laughter! Very much like the man himself!"

Macuja-Elizalde points out that Halo-Halo Extra Special lives up to its name by gathering original choreographies that pay tribute to Philippine culture and tradition and which celebrate excellence in dance.

The Halo-Halo series has already become a much-anticipated staple of Ballet Manila's season since 2006. "This year, we're serving another round of wonderful flavors for our audiences to savor," enthuses Macuja-Elizalde.

Halo-Halo Extra Special tickets are available through Ticketworld at www.ticketworld.com.ph or 891-9999. For more details, please call the Ballet Manila office at Tel. Nos. 400-0292 and 525-5967, fax 404-3086, e-mail info@balletmanila.ph or visit www.balletmanila.ph.


ADVERTISEMENT - CONTINUE READING BELOW