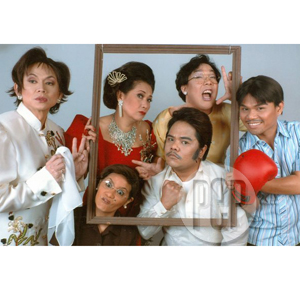 ---
Rock da Vote, the live political comedy theatre event that has madehilarious fun out of the insanity of every election year, returns for itsnewest edition this 2007 with an important new partner: ABS-CBN's Sundayvariety show ASAP.
ASAP Live will be producing the 2007 edition of Rock da Vote,which will feature top stand-up comedy stars Jon Santos, Candy Pangilinan,Pooh, and John Lapus. Ms. Tessie Tomas, including Chokoleit, will be special guests.
Considering that these are the cream of the crop oftoday's comedians, spectators can expect a lot of impressions and caricaturesof the people most recently involved in issues today. Jon Santos will bring onhis unforgettable impressions of Ate Vi, Kuringning Sanchez, and Madam Melding.Candy Pangilinan will do Presidentita Gloring and Miriam Defensive Santiagot.John Lapus gets under the skin of such personalities as Madame Auring, TitaCory, and Kris. Hot new standupstar Pooh will, of course, make light of Manny Pacquiao's current politicalambitions. Chokoleit gets to show the funny side of Sherap Espada and Bro.Mike. Last but not the least, Tessie Tomas revisits her legendary "Meldita"character and her new favorite Mel Sakit Tiyanko for several sketches.
Rock da Vote will run at the Music Museum on two consecutive Fridays andSaturdays. Tessie Tomas will be the special guest in the April 13 and 14 shows,while Chokoleit will be the special guest on April 20 and 21.
On its second decade, with new editions created forevery election year, the Philippines' best-known live comedy show Rockda Voteis showing nosigns of growing older because it gets its comedy fresh from the headlines.What with family drama, new Comelec rules, and controversial new figures makingtheir way into the political arena, expect to see cutting-edge political satireyet again from the country's top standup comedians. This time, however, it'sset to be even bigger, with ABS-CBN's trademark polish behind the entire event.
ADVERTISEMENT - CONTINUE READING BELOW
Performancedates: April 13 - 14; April 20 - 21
Venue: Music Museum, Greenhills, San Juan
Tickets are available at all TicketWorld outlets, as wellas through the TicketWorld hotline 891-9999.