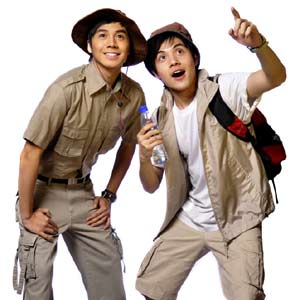 ---
Multi-talented artist and youth role model Sam Concepcion joins the cast of Trumpets' major family musical N.O.A.H. (No Ordinary Aquatic Habitat) as the Narrator. He will share the role with theater newcomer Fred Lo beginning September 4, 2009 at the Meralco Theater.

Sam is not a stranger to Trumpets. At the tender age of 9, he took on the demanding role of Edmund in Trumpets' The Lion, The Witch and the Wardrobe. Sam's performances were even then highly acclaimed and no one was surprised when he went on to win the grand prize on ABS-CBN's Little Big Star (2006).

Since then, he has graced kids and teen magazine covers (KZone, Candy), teen TV (Myx, Boystown), teen dance group Gigger Boys, various print and TV endorsements (Bench, Smart My Sandbox), the cast of Disney's High School Musical On Stage, the soundtrack of Dreamworks' hit animated movie Kung Fu Panda, among others. He was also awarded hottest "Candy Cutie" for three consecutive years (2006-2008), Nickelodeon Kids Choice Awards' Pinoy Wannabe Awardee (2006), and more recently United Nations Association of the Philippines Young Achiever Awardee for Entertainment (2009).

But despite all his successes in the showbiz scene, Sam's heart has never left the theater. In 2004, he recorded the voice of Japeth for the puppet version of N.O.A.H., which featured the vocal talents of Gary Valenciano and Bituin Escalante.

Sam deemed the experience "enjoyable" but "not the same as performing on stage." It is no wonder then that he jumped at the chance to play the Narrator. Now he goes live onstage in the full-scale production of N.O.A.H. under the stage direction of theater stalwart Jaime del Mundo.

In N.O.A.H., Trumpets retells the classic story of the Biblical patriarch and his famous ark with wit and humor, heart and compassion, hope and joy, and of course, fun!

Sam will be alternating with Fred Lo, a standout in del Mundo's Playshop 2009 Advanced Musical Theater class. N.O.A.H. is his first professional theater gig. Though a relative newbie, Fred's performances promise to be just as stellar as his more senior counterpart.

So set sail with Sam in N.O.A.H. (No Ordinary Aquatic Habitat) opening at the Meralco Theater on September 4 and will run till September 27 with shows every weekend in between.

For tickets and/or more information, call TRUMPETS at 635-4478, 0917-8842105, 0932-2705639 or email trumpetsinc@gmail.com.

Tickets are now available at Ticketworld 891-9999.

ADVERTISEMENT - CONTINUE READING BELOW