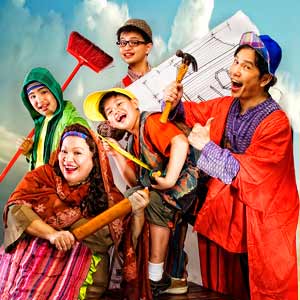 ---
N.O.A.H. (NoOrdinary Aquatic Habitat) will soon turn the Meralco Theater into onecolorful zoo!

This musical comedy, which marks the return of Carlo Orosa to acting onstage,will be performed starting September 4. It was originally conceived andstaged as a puppet show way back in 2003.

In this modern adaptation of the Biblical story of Noah and the ark,theatregoers will be treated to a musical laced with wit and humor as ittackles issues on faith and obedience.

Mr. Noah (Carlo Orosa) and his family live in a polluted world. In a desperatesolution to clean the earth, Noah prays for a miracle and God answers: Noah isto build an ark, load it with two of every animal in the world, take his familyinto the ark—and only God knows what for!

Carlo is joined by Sheila Francisco, another theatre star from London's WestEnd, as the culinary challenged Mrs. Noah. Their sons are played by the Sisonbrothers—Marek, Enzo, and Ruiz—who are alumni of Trumpets in their theaterworkshops. Sam Concepcion and newcomer Fred Lo alternate in the role of TheNarrator.
ADVERTISEMENT - CONTINUE READING BELOW

N.O.A.H. is staged by Trumpets, the theater company that brought some ofthe country's critically acclaimed productions such as Joseph the Dreamer and TheLion, The Witch and the Wardrobe.
"It is based on Noah's Ark. Ginawa na langnamin na nakakatawa. Actually, Jaime wrote a very funny script. So, it's reallya comedy," said Trumpets president Audie Gemora.
Writer and director Jaime Del Mundo said,"We first did a production of this show in Music Museum. We had the voices ofGary V and Bituin Escalante and even Sam Concepcion, who at that time, wasstill a kid.
"At that time, I thought, this would beinteresting to see and done by actual live actors," Jaime added.
Rony Fortich, who is now musical directorat Hong Kong Disneyland, created the original music together with Jaime delMundo. He added two more songs from the complement this live staging of whatwas once a puppet show.

Mio Infante, who serves as production designer, brought the animals to life byusing thin rattan frame structures worn by the chorus then dressed with fabricand feathers.

N.O.A.H. (No Ordinary Aquatic Habitat) will open on September4 and will be staged at the Meralco Theater every Friday, Saturday, andSundays of the month.
ADVERTISEMENT - CONTINUE READING BELOW
For tickets and/or more information, callTrumpets at 635-4478, 0917-8842105, 0932-2705639 or emailtrumpetsinc@gmail.com.
Tickets are also available at Ticketworld (Tel. No. 891-9999).