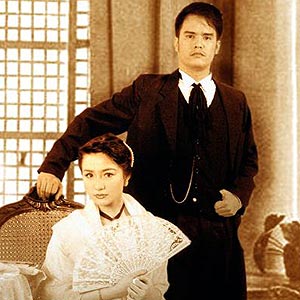 ---
Thesecond installment of Gantimpala Theater's Four Classics, Kanser (Noli MeTangere) penned by award-winning playwright Jomar Fleras, under thedirection of Adriana Agcaoili, brings back on stage the life of the Europeaneducated Don Crisostomo Ibarra and his lady love Maria Clara, and the manyinteresting and intriguing characters of San Diego.

DirectorAdriana Agcaoili says, "The Noli Me Tangere, Dr. Jose Rizal's firstnovelis the basis for Fleras' award-winning play, Kanser. As ahistorical record, his novel is a powerful and very real testament that Rizal--and all the revolutionary Eliases, the victimized Sisas and Crispins, and thebroken idealists like Ibarra--made for our motherland. As live theater, Fleras'play makes for an entertaining two hours of watching and what is wonderfulabout it is that, it will really allow you to ponder on the many issues that itpresents."

Thecast includes Jao Mapa (Crisostomo Ibarra);Fame Flores and Meliza Reyes (alternately portraying Maria Clara); JojoRieguera (alternate for Ibarra/Padre Salvi/Padre Syubila), Manolet Concepcion (PadreDamaso); Dante Balois (Pilosopong Tasyo). Ed Murillo (Capitan Tiago); XenoAlejandro (Elias);Meldea Flor Formacil(Sisa); Irra Cenina (Padre Salvi/PadreSybila/alternate for Mang-aawit), April Anne Dolot and Agnes Ramos (alternatelyportraying Doña Victorina); Hazel Orencio (Doña Consolacion); Niesty Lopera (DonTiburcio); Vangie Inocencio (Tiya Isabel); John Zyke Snatos (Basilio); JohnDencel Galoso (Crispin); Molts Meneses (TenienteGuevarra/Tarcilo); and Von Arroyo (Mang-awit).

"Thisis my first time to play the role of Crisostomo Ibarra and I must admit thatthis is a very challenging character," says Jao Mapa. "Ibarra is an idealist, a young man educated from Europe who went home to spend his life with his belovedMaria Clara. When he comes home to SanDiego, he sees that Filipinos were being oppressed bythe Spaniards and even he, an ilustrado also experienced the oppression. As anactor, people must see my transformation from a naïve young man to a hurtingand hunted enemy of the government."
ADVERTISEMENT - CONTINUE READING BELOW

Headds, "I am very thankful to Gantimpala Theater for giving me the opportunity oncemore to work with them. I appreciate the discipline, hard work and the highlevel of professionalism of all the people who are part of this production. Ijust hope that I deliver what they expect from me and that our audiences willenjoy and learn from our play."

Assistingdirector Agcaoili re-create the world of Crisostomo Ibarra and Maria Clara are Jose Jeffrey Camañag (AssociateDirector), Andy Villareal (Lights Designer), Marianne Sedotes (Sets Designer), AlbertFigueras (Costumes Designer), Darby Dizon (Choreographer), Jorge Cabullo (ProductionManager), Wilmark Oliver Tabio (Stage Manager), and Tony Espejo (ArtisticDirector).

Performancesare on September 4, 5, 6,11, 12, and 13 (10am/2pm), AFP Theater, Quezon City and September 18, 18, 20(10am/2pm), SM South Mall, Las Piñas City.

GantimpalaTheater's Kanser (Noli Me Tangere) is fully supported by the National ParksDevelopment Committee.

Forinquiries, please call the Gantimpala Theater Marketing Office, look for Ms.Glenda Agravante at 899-5745/896-3503/474-5198