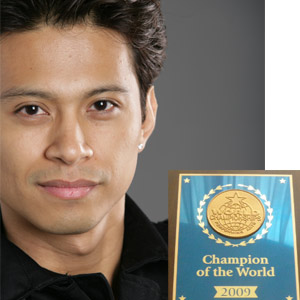 ---
In the 13th edition of the World Championships of Performing Arts (WCOPA) held July 11-19, 2009 in Los Angeles,California, Guy Lockwood was one of RP's representatives in the event dubbed as the "Olympics of Hollywood."


He emerged as the World Championfor Male - Acting Contemporary in the prestigious annual talent battle. He alsobagged medals for the following categories: Gold - Male Acting Contemporary,Gold - Male Vocal Gospel, Silver - Male Acting Dramatic, Silver - Male Variety(Martial Arts), and Bronze - Male Vocal Country & Western. He also receivedan Industry Award for Most Requested Go-Sees, which is awarded to contestantswho had agents, directors, and producers request to privately see them, afterwatching their performances.

Not bad for a first-timer in WCOPA. Guy made itthree for three, meaning he bagged medals and recognition in all the threecategories that he entered in--a first for the Philippine delegation since joiningWCOPA in 2005.

Guy joined Evette Pabalan (of theSexbomb Dancers), Martha Joy Lim-Fiuza (of CanadianIdol fame), Mayumi Morales, Reynaldo Concepcion, Christian Matthew Andeza,Izarzuri Vidal, Melchizedek Bicua, Maila Mitra, Ronald Diana, Nicole JoyEspolong, Orie Jun Vamenta, J2 Power Duet, The Young Voices of Negros Philippines,and 2009 Junior Grand Champion Performer of the World Rhap Salazar in thisyear's Philippine delegation to the competition.
Most recently, Guy also got a scholarshipfor the prestigious New York Conservatory of Dramatic Arts (NYCDA). Just howtough and rare is it for one to get past the auditions and then admitted intothe program? Over 5,000 aspirants audition for the institution every year, butonly 180 are accepted. And it should be worthy to note that this may be the first time aFilipino citizen was granted an NYCDA scholarship.

"In that sense I feel that I did mycountry good. I feel very honored and appreciated that my talent gotrecognized. For me to be given a scholarship, knowing that it's not easy tomake it, makes me feel even better," Guy shares. "Of course, this will addprestige to my career because I will learn skills that are world-class, henceincreasing my chances of making my dreams come true."
ADVERTISEMENT - CONTINUE READING BELOW

His win in WCOPA and acceptance toNYCDA have confirmed all his beliefs in his dreams. "They're a validation forme. With all these recognition, I feel I'm in the right path to my dreams,"says a determined Guy, who makes sure he brings home something whenever he goesto and competes in any battle.
GUY WHO? Born in Sta. Cruz, Manila,Philippines, Guy Lockwood relocatedto Hong Kong at the age of seven and grew upthere, when his mother married his stepfather, who later adopted him. He earneda Bachelor of Business degree with double major in Marketing & Managementat the Auckland University of Technology in New Zealand. Five months after hisgraduation, Guy became a middle manager for an international company. He thengot, in his words, "a great job offer" as a regional marketing manager in Monte Carlo in Monaco, where his employer "made melive in a resort and fly business class to different places." Then came arealization.

"That's not what I wanted to do,"Guy admits. "All my life, I wanna be an actor."

So he quit that luxurious job, wentback to New Zealand, and got another job, which he used to augment for actingclasses he took up to become a professional actor. Of course, he got to utilizehis having been a marketing guy as he started in New Zealand television. He says:"Marketing is like acting, because you present. You need to be dynamic like anactor."

Guy's television exposure include a guest role as astation foreman in the Power Rangers: Dino Thunder Episode 1,224: A RangerExclusive (2004) and a featured role as Mr. Gilmore in Shortland Street (2003),both in New Zealand; a performance in RJTV SweetTalks (2006) and as a video jockey (VJ) in (2005), both in the Philippines.
COMING BACK TO HIS ROOTS. It was his mother, Marcelina, who advised him to tryacting in the Philippines.He came back to the country in 2005, courtesy of hairstyling guru Tony Galvez.
ADVERTISEMENT - CONTINUE READING BELOW

As a theater actor, Guy mostrecently appeared in Se7enth Stage Production Company-Philippines'Daguio, directed by Mel Magno. He also played the lead role in WingsEntertainment Philippines' Oedipus The King production, directed by FrancisVillacorte, in 2006, Most notably, he portrayed Mr. Myers in Hong Kong Youth Arts Foundation's FAME: The Musical underLindsey McCallister.

This "actor who can sing" trained under Fritz Ynfante for acting, University of the Philippines College of Music'sMontet Ocoymo and the Yamaha School of Music for voice training for pop, theCenter for Pop Philippines for voice training and stage performance, and JuliaBiermann in New Zealandfor voice for acting, among others.
TARGETING TINSELTOWN. "What I've achieved is not only for me, but also formy country, the Philippines,"asserts Guy, who plans to use it to catapult his local acting career. "Forsure, my NYCDA scholarship can only bring positive outcomes career-wise. I lookforward to living and studying in NewYork."


But his ultimate career goal: become known in Hollywood. With his passion, hard work, focusand determination to always be the best in his craft, that dream is never toofar for Guy Lockwood.

"I am a Filipino and I can act," heanswers when asked what he thought was his edge in succeeding in this dream. "I'llmake the Philippinesproud by becoming the first Asian guy--a Filipino--who can act and be knownfor it all over the world!"

Guy Lockwood is managed by MarieGutierrez of Alegra Music.