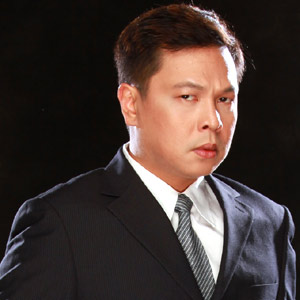 ---
Jett Pangan makes sure he makes a foray into theater atleast once a year. He has been bitten by the acting bug ever since he became lead in Jesus Christ Superstar way back in 2000where he played the role of Pontius Pilate.
"This is my tenth musical," said the The Dawn frontman ofhis participation in the musical SpringAwakening. "The beauty of theater kasi is you are never good enough fromone play to the next. It's always a different experience. It's always adifferent challenge. It's always a different work load. Yun yung kagandahan ngtheater. You are never in your comfort zone."
"When you start a play, you are new again. Sure you havethose things to your credit but you are only good as your last play but at thesame time, you are a new actor again.
"I don't think that ten plays will mark me as a veteran. ButI've done my time in musical theater. It's a blessing because not a lot of rockmusicians are able to do this and have this door made open for them," he told PEP (Philippine Entertainment Portal) as the cast took a break from their morning rehearsals earlier today, September 15.
BEING A VOCALIST VERSUS BEING A THESPIAN. Jett admits thatthe theater training has helped him become more disciplined. He points out that he has changed by leaps and bounds from the first time he stepped onstage to perform a role.
"Iba yung you're doing this day in and day out. It keeps youon your toes. You're focused. May alertness, overall instinctiveness. It moldsyou," he said.
"It is so different because it gives me a sense of balance.Being in a rock band, that's my comfort zone. You know how it is being in aband na walang oras na sinusunod, you play when you get there. Sometimes youwait."
ADVERTISEMENT - CONTINUE READING BELOW
Jett appreciates what theater has done for him, "Ang gandang theater because it's like going to the office. You have to be there by 11 amand end at 5 pm. The time is portioned very strictly. I like that because itsticks to my body clock. It gives me a sort of discipline internally andexternally.
"Yung sense of balance onstage is there, the voice clarity.I don't have to do much but to project. Stuff like that I get from theater butwithout sounding at the risk of being theatrical in a rock band. But theconfidence and how you project, I get that from musical theater," he said.
But Jett admits that it was a little difficult juggling hisduties for the The Dawn and his rehearsals for the musical. The Dawn recentlyreleased their album, Sound The Alarm.Recording and mixing for the album came at around July while rehearsals for Spring Awakening started around August.

(Click HERE to read more about The Dawn's new album)
"It is always a struggle to balance things. First I have tonicely ask my band mates and the management if I could do the play. They wouldhappily give way. We lose gigs in the process but our weekends are stillintact. We can't do out-of-town gigs for the duration of the play lang.
"Chari Arespacochaga [SpringAwakening director] kept our Saturdays free. I could fly to somewhere pwedebut as long as I have to be back on Sunday. But for purposes of doing this, weminimized gigs na rin. We still kept our schedules in Manila at least."
But being a rock star and having essayed roles like RiffRaff in The Rocky Horror Show andJimmy Early in The Dreamgirls didn'tmean that Jett would have automatically landed the role of Male Adult Figure in Spring Awakening.
Jett narrated that he had to do a video audition lastDecember 2008 just like everyone else in the cast.
ADVERTISEMENT - CONTINUE READING BELOW
"The great thing about this is I don't sing except in thelast song. It's just pure acting which I find very, very cool. When Chari toldme, 'I'm in.' It is so ironic na it's a rock musical and I don't sing. I loveit. It's kind of surreal for me. It's an acting piece. Parang supporting roleito to the kids. They do most of the singing. Iba siya for me," Jett ended.


Spring Awakening Manila will be staged by Atlantis Productions, which is celebrating its 10th anniversary.


It is based on the controversial 1891 play of the same title by Frank Wedekind. Set in the late 19th century Germany, the musical tackles the concerns of young adults who are exploring their human sexuality. The original play was banned in Germany due to its portrayal of masturbation, abortion, rape, child abuse and suicide.


Joaquin Valdes and Kelly Frances Latiportray the lead characters named Melchior Gabor and Wendla Bergman, respectively.


Duncan Sheik and Steven Sater's Tony award-winning rock musical opened on Broadway on December 10, 2006. The show went on to win eight Tony Awards, including Best Musical, in 2007.
Spring Awakening
runs
September 25-October 18
, 2009 at the Carlos P. RomuloAuditorium, RCBC Plaza, Makati City.
For ticket inquiries, call Ticketworld at 891-9999 or call Atlantis Productions at 892-7078 or 840-1187. Due to explicitcontent and some nudity, parental discretion is advised.