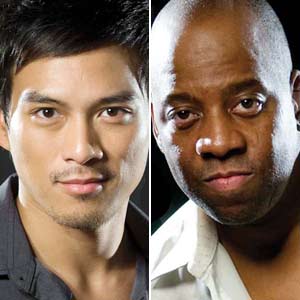 ---
After itssuccessful and highly-acclaimed staging in Cebu City last July, Believe, ThePop Musical will have its Manila run at the Music Museum on October 6,at 8 PM.

The showcombines the drama of theatre with the energy of a musical concert.Conceptualized and directed by Bill Ramos and Marq Dollentes, Believe isa story of the transforming power of love and the miracles it can do. Itpromises to inspire, uplift, heal and empower through songs of faith, hope, joyand courage.

Believe is headlined by a powerhouse cast composed ofIsabella, Keith Martin, Radha, Star Magic talent Guji Lorenzana, Marq Dollentesand Cebu's Benjie Layos and Mae Ann Araneta.

The actorsportray characters facing common challenging human issues—one's ownmortality, loss of loved ones, identity, self-love and self-esteem. In thestory, the "Spirit" comes in whimsical guises and uses people, relationships,and situations as a call to always choose to see love in a world of fear.

Among thefeatured pop songs in this stage play-cum-musical concert are "Bring Me ToLife," by Evanesence, "I'm Your Angel," by Celine Dion and R. Kelly, "She's Outof My Life," by Michael Jackson, "No Matter What," by Boyzone, "Reflections andVoice Within," by Christina Aguilera and "Because of You," by Keith Martin, toname a few. These songs were given a fresh and new arrangement by musicgeniuses Bob Aves, Naldy Rodriguez, Bond Samson, Obette del Rosario and KeithMartin.

Anotherhighlight of the show are the specially made video support directed by WillFredo, the director of the digital indie film Compound and Sa Pagdapong Mariposa, and filmmaker Mark Espina. Set design is by Firma Manila,costumes by fashion designer Jun Escario and hair and make up by Ruel Papa.Official media partner is MTV Philippines.

The show is a production ofOneWorld of Music and Light and presented by The Philippine Society of Medical Oncology. It alsoserves as a fundraiser and the opening activity of the annualconvention of the Cancer and HealthAwareness Outreach Program.
ADVERTISEMENT - CONTINUE READING BELOW

See how the bondage of fear is broken and the gift of faith is realized when lovetouches the heart. Experience Believe.
For tickets, call Philippine Society of Medical Oncologyat 721-9326, Ticketworld at 891-9999 or Music Museum at 721-0635 and721-6726.