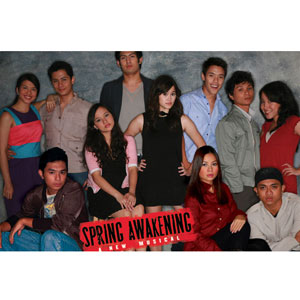 ---
Director Chari Arespacochaga has said Spring Awakening requires abrave and generous cast, a group of actors courageous enough to deal with whatthe musical requires of them. I realized how true this was during the September23 preview performance of Atlantis Productions' staging of the hit Broadwaymusical.


The musical, with lyrics by Steven Sater and music by Duncan Sheik,requires the cast to tackle songs about, among other things, masturbation,teenage pregnancy, and sexual yearning. It has been described as edgy,provocative, and risky—adjectives I did not think would suit the musical, untilI saw it live. "Don't expect to be snapping your fingers and singing IFeel Pretty," lead actor Joaquin Valdes writes.

But that's the beauty of Spring Awakening. Atlantis' staging of theTony Award-winning musical is indeed a risk, and thanks to its talented andfearless motley of young actors, it is a risk that paid off.

Set in Germany in 1891, Spring Awakening, based on German playwrightFrank Wedekind's play of the same name, begins with Wendla (Kelly Lati), whojust turned 14, asking her mother how babies are made. She's too old to believethe stork, she said. Unable to answer her directly, her mother (Cheska Iñigo,who plays all of the adult female characters) instead says that a womanconceives when she loves her husband the way only she can. It turns out, herfriends Anna (Ava Santos), Thea (Yanah Laurel), and Martha (bossa nova singerSitti Navarro) are just as curious.

Elsewhere, the boys are experiencing sexual stirrings of their own,especially the troubled Moritz (Nicco Manalo). Melchior (Joaquin Valdes) is thesole child who has the answers to the questions their adults around them(especially not their parents and school authorities) dare not answer. WhenMelchior and Wendla, they experience an unusual yearning that they have neverfelt before—and there starts the tragedy.

It is easy to become disconcerted with Spring Awakening, and not onlybecause of the material. For one, the songs function more like internalmonologues rather than actual dialogues. When the characters perform a song,they are detached from the musical's setting; instead, they are singing like every teenager who has felt wronged by adult authorities (as in "TotallyF***ed," the rousing number that had everyone in the audience laughing andclapping) or has felt the sheer exhilaration of having a teenage crush (as in"My Junk"). These numbers require the actors to give it their all.
ADVERTISEMENT - CONTINUE READING BELOW

The set, too, does not resemble anything you would expect from what shouldbe a period piece. But it managed to capture what Spring Awakening istrying to convey.

It's obvious that the cast's talent and energy set the tone of SpringAwakening. The musical's key actors managed to provide the energy andsincerity the musical requires of them.


Joaquin, who was part of New VoiceCompany's The Male Voice last May, did not disappoint as the musical'smale lead. He managed to charm as early as his first song, "All That's Known,"and was able to match the bravado of Manalo as the manic Moritz, who wasclearly the musical's most interesting character. This energy seemed lost inmost numbers, such as in "The Bitch of Living." This song pretty muchencapsulates the theme and tone of the musical—it is irreverent, tragic, andtrue. It would be interesting to see how they can make the sentiments of thesong (with lyrics that go, "She said: "Give me that hand, please/And theitch you can't control/Let me teach you how to handle/All the sadness in yoursoul") seem more genuine.

Nonetheless, Joaquin made the captivating music and almost poetic lyrics ofSheik and Sater work well; for two hours, I was convinced he was a 15-year-oldboy looking for the answer we all asked ourselves as teenagers.

Bea Garcia's Ilse, the bohemian outcast of the group, is a standout despitehaving limited stage time.Sitti, as with most of the cast, had minimum stagetime, but she did get to sing one of the musical's more rousing songs, "TheDark I Know Well." Here, the well-known bossa nova songstress was adequate, andit would be a pleasure to see how she grows into her character.


Nar Cabico (asthe innocent Ernst) and JC Santos (as the sophisticated Hanschen) shocked andbrought the house down with their performance of "The Word of Your Body(reprise)."
ADVERTISEMENT - CONTINUE READING BELOW

During the intermission (and after the controversial sex scene), all I heardeveryone talk about was the sex. But Spring Awakening is more than justthe sex. More than anything else, Atlantis' Spring Awakening is awonderful demonstration of how talented and brave our actors are.
Spring Awakening
in Manila will run until
October 18,
2009 at the Carlos P. Romulo Auditorium, RCBC Plaza, Makati City.