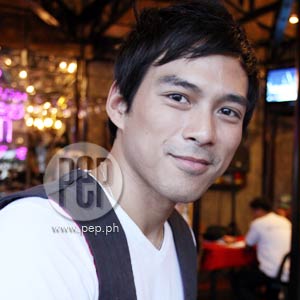 ---
A combination of film, theater, and concert, Believe ThePop Musical tackles how the power of overwhelming love can conquer a worldconsumed by fear. The Manila run will be shown at the Music Museum on October6 (Tuesday) at 8 pm.


Among those who will lend their vocal prowess in the musical play are:international artist Keith Martin, soul diva Radha, Star Magic talent GujiLorenzana, Kuh Ledesma's daughter and singer Isabella, indie actor andco-producer Marq Dollentes, and Cebu's Benjie Layos and Mae Ann Araneta.
A press conference was held yesterday, September 28, at theMusic Museum, for the musical play that was first staged in Cebu last July.

Star Magic talent Guji Lorenzana is set to play one of the characters, aheartbroken individual who stops believing in the power of love. "He'sstruggling with the idea that love does not exist," says the ASAP performer inan interview. "It's an eternal conflict between him and God, because he doesn'twant to believe that love exists anymore. He has to find love within himself.That's when he overcomes his fear."
Guji, who is more recognizable as a crooner on ABS-CBN'svariety show ASAP, had his beginnings in theater. He had been doing theater in New York andCalifornia where he grew up, before moving back to the Philippines.
"I grew up in theater—children's theater, musicals,"shares the 27-year-old singer who is part of the all-boy band Voizboys. "Musichas always been my thing. Coming back here in the Philippines, I did [a lot ofstage plays]. As far as background is concerned, this is something I love todo. I'm always happy to be doing this. Very happy actually."
With his love for theater, would he say that he's moreinterested in theater than TV?
"Not at all," he tells PEP. "I think it's all the same. It'sall entertaining, just different stages. Like on TV, it's a stage in itself,[the theater] is a stage in itself. It's all different mediums."
ADVERTISEMENT - CONTINUE READING BELOW
He elaborates,"The thing with stage is, you feed off the audience, so you feel them feelingyou and vice versa. In theater, when you experience a certain feeling, youreally experience it. In TV, with everybody there, all the crewand everything, they're not feeling what you're feeling. That's the bigdifference. I still feel theater is my first love, I'm always gonna go back totheater no matter how many projects I do, I'll always go back to theatermusic."


THE PLAY. Believe featuressongs that were handpicked by the cast members and producers based on the songsthey like. "From there, we made a story out of it, basing on the character,"explains cast member and co-producer Marq Dollentes. "And then we specificallychose who would arrange it, who could make it sound best for a particularscene."
The songs included in the play are pop songs but arrangeddifferently to sound like a completely different song, says Dollentes. It wasmade that way "so that we have another thing to offer to the audience," headds. "We really put all of our strength to create a new sound for each of thesegments."
The songs included in this musical are "Bring Me ToLife," by Evanesence; "I'm Your Angel," by Celine Dion and R.Kelly; "She's Out of My Life," by Michael Jackson; "No Matter What,"by Boyzone; "Reflections" and "Voice Within," by Christina Aguilera;and "Because of You," by Keith Martin, to name a few. Other songs include hits popularized byNatasha Bedingfield and Josh Groban.
Also featured are some original songs like "Flow" sung byMarq Dollentes, Isabella's song to be included in her own upcoming album, andGuji Lorenzana's own composition titled "Incredible."
With his own album currently in the works; Guji trusts inthe importance of Believe in his career. "I'm hoping this opens moredoors to that. I think everything has its time. I've envisioned this to come tomy life first, so before a big album comes out, [Believe] has tohappen."

ADVERTISEMENT - CONTINUE READING BELOW
THE THEME. GujiLorenzana tells PEP that his major musical influence is the late MichaelJackson. For his repertoire in Believe, Guji will be adding his personalpop-rock flavor to each of the songs he will be performing on October 6.
"I wouldn't be a performer today if it wasn't for [MichaelJackson]," he relates. "I always knew deep down inside that he had a higherpurpose, and I strive to be a performer who also has that. People only see what's on top, but there'sso much more underneath. I hope people, especially through this musical, seethat about myself. About everyone that's involved."
Believe is a play where music, love and faith allconverge to tug at the heartstrings of Filipino audiences. And with God andlove as underlying themes, it explores a realm far deeper than what meresurface could show.
"With everything that's been going on now, we realized howimportant this is for everybody to see," Guji explains to PEP. Cast member MarqDollentes agrees and points out, "I think that was one thing that was nottaught in school... to dream. And dreaming is really important, because that'swhere you move onto new levels in your life. That's really our message."
All of the cast members admit to having strong faith inGod. Guji even revealed that he used to be an altar boy until the age of 18, and he was supposed to enter seminary school to become a priest.
What made him decide to follow another path instead?
He tells PEP, "Honestly, I like girls too much," the StarMagic talent joked, after which he said seriously, "One day I want to have afamily."
"My faith is very strong," he continues. "I feel that ashuman beings, we stray a lot. The point of this musical is believing inyourself, finding what's important inside. And for everybody, whether they callit God, or love... it's inside."
ADVERTISEMENT - CONTINUE READING BELOW
To this, Marq Dollentes adds, "Because the state of theworld now is very fearful, the economy is going down, it's going downsteam. Sowe had to make something that goes upstream."
Guji encourages everyone to see Believe "not becausethey support me," he says, "but because they support the purpose of what we'retrying to do here. And [I hope] that they come out from this stronger inthemselves, and that they find more meaning in their lives—whether they'velost [such meaning], it's reborn, or if it can add to what they already believein. I hope this does something to them."
Believe The Pop Musical
will be shown at the Music Museum on
October6
at 8 pm. It serves as a fundraiser and the opening activity of the annualconvention of the Cancer and Health Awareness Outreach Program presented by ThePhilippine Society of Medical Oncology.
For tickets, call Philippine Society of Medical Oncologyat 721-9326, Ticketworld at 891-9999 or Music Museum at 721-0635 and721-6726.