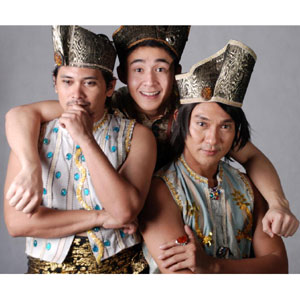 ---
Aaron Villaflor, stars in Gantimpala Theater's Ibong Adarna, as Don Juan, the youngest and most beloved son of Haring Fernando.

Underthe direction of Roobak Valle and written for the stage by ReneVillanueva (+), Ibong Adarna is a play about the three brothers, DonPedro, Don Diego, and Don Juan, and their quest to find the legendarybird of Piedras Platas, whose songs are the only cure for theirfather's sickness.

"Don Juan is very patient, understanding andloving son. All that he wants is for his father to be cured. He has achild like innocence, and his faith and inherent goodness are hisgreatest strengths. At the start of the play, the audiences will seehim as a very sheltered young boy. Eventually, when it was his time tolook for the Ibong Adarna, he matures and becomes a fine royal aftersurpassing the many obstacles that came his way," says Arron ofhis character, Don Juan.

"Theexcitement has doubled," says the actor, when asked how he feels about being Don Juan for the second time. "When they offered me to dothe role again, I immediately accepted it and made sure to fix myschedule. Sobra akong na-excite! Being in theater is like going back toschool, and the stage is where you do a lot of hard work and itrequires you to be disciplined and very committed."

Hecontinues, "I admire the level of professionalism of all the peopleinvolved in the play. When we rehearse, it starts on the dot, every oneis ready, lines are memorized, the cast members know their blockings,the dancers execute the dances very well, and the musicians play theinstruments with so much energy! Gantimpala Theater has become asecond family to me, so this is like a reunion of sorts.Hinahanap-hanap ko na talaga yung mag-perform on stage. There is adifferent rush that you get when you do theater. And the applauseduring the curtain call, nakakatanggal ng pagod. Ibang klase! Now, thatI am Don Juan again, I hope the audiences will like and enjoy myperformance."

Completingthe cast are Roeder Camañag (Don Pedro with Jerald Napoles,alternate),Arkin Da Silva (Don Diego), Anna Deroca (Maraya/MariaBlanca), Joey de Guzman (Ermitanyo), Billy Parjan (Haring Fernando),Pamela Hundana (Reyna Valeriana), Abel Napuran (Manggagamot), Paul Sy(Orlando) and Matthew Manalaysay (Ibong Adarna). Musicians are ChrisCervantes, Maui, Smith Bitoon and Percival Montelibano.

Some of the Muslim cultural community dancesserve as production highlights and were originally choreographed by thelate Ramon Obusan, National Artist for Dance.

Assisting directorand production designer Valle re-create the kingdom of Berbanya areAndy Villarreal (Lights Designer), Raul Nepomuceno Jr. (Choreographer),Charyl Chan- de Guzman (Production Manager), Joey David (StageManager), photos by Jojit Lorenzo, and Tony Espejo (ArtisticDirector).

The National Parks Development Committee and Everbilena Cosmetics support Gantimpala Theater's Ibong Adarna.

Performancesare slated on October 7-11, 10am/2pm, AFP Theater in Quezon City andOctober 16, 17, and 18, 10am/2pm, SM Southmall Cinema 3, in Las PiñasCity.

For information, bookings and ticket reservations, please call: 899-5745/896-3503 and 474-5198.


ADVERTISEMENT - CONTINUE READING BELOW