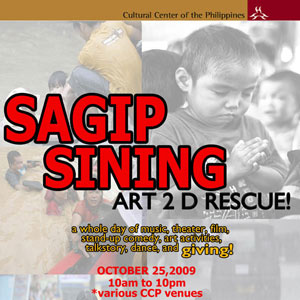 ---
The Cultural Center of the Philippines is inviting artists, relief workers, families and friends to Sagip Sining Art 2 D Rescue,a whole day of music, dance, theater, talkstory, standup comedy, filmscreenings and art activities slated on October 25, Sunday, from 9:30 amto 12 midnight at various venues of the CCP.


The audience is encouraged to participate in the "Give all you can, See all you can" scheme tohelp mobilize donations for the relief of typhoon victims inPangasinan, Benguet, Mountain Province and Cagayan and therehabilitation of schools, school children and teachers affected by thetyphoons.
The event will start at 9:30 AM on the CCP Ramp with opening ceremonies to be led by CCP artistic director Raul Sunico.
Sagip Siningwill feature performances by Della Besa, Rachelle Gerodias, CamilleLopez-Molina, Antonio Maigue, Mary Anne Espina, Randy Gilongo, RonanFerrer, George Yang, Anna Maria Gregorio de Guzman and many otherclassical artists.
The Philippine Philharmonic Orchestra, BalletPhilippines, Angono Chamber Orchestra and various rock bands likeItchyworms, Imago, Sandwich, Noel Cabangon, Radioactive Sago Projectand others will perform.


Philstage, Tanghalang Pilipino,Philippine High School for the Arts and theater artists will performexcerpts from stage musicals.
There will be storytellingsessions with the Aliptaptap Storytellers Philippines and PhilippineBoard on Books for Young People, Poetry in Performance with Unyon ngmga Manunulat sa Pilipinas (UMPIL) and Linangan ng Imahen, Retorika atAnyo (Lira).
Visual artists of Tutok, Concerned Artistsof the Philippines , Ugat Lahi, Neo Angono Artists Collective,Pilipinas Streetplan, Sining Bugkos, Artist Arrest, Anino Shadow PlayCollective will hold an art auction and collaborate on a mural. Cinemalaya short films will also be screened.

Entranceto 15-minute shows will be at suggested minimum donation of P20 pershow while full shows at the Little and Main Theater will be at asuggested P500 donation or more. A P1,000 festival day pass will entitleone person to watch all shows of the festival. Corporate pledges are mostwelcome.
ADVERTISEMENT - CONTINUE READING BELOW
Relief goods and donations-in-kind will beaccepted, particularly, the following items: school supplies, books andtoys for children, food, medicine, clothes, socks, jackets and blankets.
For more information, please call the CCP Performing Arts department at Tel. Nos. 832-1125 locals 1600-1607.