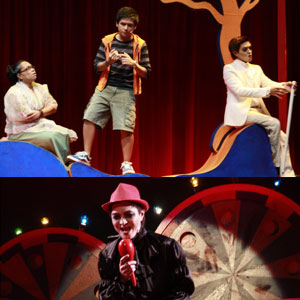 ---
Most Filipinos are familiar with the character Juan Tamad: afictional character who's so lazy, he just lays under a guava tree,waiting for gravity to drop the fruit to him.

PETA (Philippine Educational Theater Association) revives this character with amodern-day twist through Si Juan Tamad, Ang Diyablo at ang Limang MilyongBoto. It will be staged at the PETA Theater Center in Quezon City from October24 and 25.

This hilarious vaudeville musical play shows the transformation of an apatheticJuan Tamad to a pro-active Juan Tama. Through song-and-dance numbers,theater audiences will be entertained as well as educated about the importance ofthe electoral process. In fact, one segment of the two-act play thoroughlyexplains the registration process for first-time voters.

It also presents a satirical view of characters often seen during theelections, which is depicted in the play as one big carnival.

SYNOPSIS. Si Juan Tamad, Ang Diyablo at ang LimangMilyong Boto is set in the fictional land of Isla Filiminimon. It centerson Juan Tamad (nicknamed JT), a young boy who's a virgin. A virgin voter, thatis. Since his parents are overseas workers based in the remote, sandy island ofIsla Agimat, JT is being raised by his grandmother.

With the presidential elections drawing near, his grandmother pushes JT toregister and vote for the next leader to sit in the Palasyong Bato. Whileperforming his duty as a citizen, JT meets a young girl who makes him realizethat patience is truly a virtue.

On election day, candidates have their own gimiks to entice voters. Thefiesta-like atmosphere is heightened by a samba dance number that asks viewersnot to sell their votes to unscrupulous politicians. The cast members even tapaudiences to come up onstage and dance along with them.

JT becomes frustrated when his candidate loses, causing him to become apatheticto the situation of the country. But when an accident almost kills hisgrandmother, he gets a wake-up call to become more involved in youth communityefforts.

Written by Vincent De Jesus for first-time voters, Juan Tamadhopes to encourage the youth not only to register by the end of October butmore importantly to participate as vigilant young citizens who will ensure goodgovernance after the elections by continuing to demand the best from theirelected leaders.
ADVERTISEMENT - CONTINUE READING BELOW
At the end of this month, five million youth voters areexpected to register for the 2010 elections. Those five million virgin votes,combined with the nine million already registered youth voters, have the power toswing the course of the national elections and eventually the entire Philippinepolitical history.

The play Juan Tamad is actually part of the voter's education campaignof PETA dubbed as Casting Call: The Virgin Voter's Campaign, "I Want My FirstVote to Count." This campaign isaccompanied by Bagong Bilang, a workshop performance by PETA's youth arm to beconducted in various schools and communities as part of the voters' educationcampaign. The workshop engages the youth in discussions on the importance ofthe elections and citizens' participation, while giving criteria for choosingfitting candidates.
ADVERTISEMENT - CONTINUE READING BELOW
The performance schedule of
Si Juan Tamad, AngDiyablo at ang Limang Milyong Boto
are as follows:
October 24 and 25
,2:30 pm and 7:30 pm at the PETA Theater Center, No. 5 Eymard Drive, New Manila,Quezon City.
Tickets are priced at P300 each. For ticket reservations or more information,contact PETA Marketing at 725-6244 or 410-0821, 0917-8044428,
petampro@yahoo.com