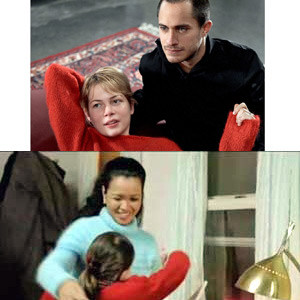 ---
Moviegoers will meet an affluent New York-based couple atthe heart of Mammoth, a continent-hopping drama that takes us from the UnitedStates to the Philippines to Thailand and then back.

Leo (Gael Garcia Bernal) is a game designer who just landed a multi-milliondollar deal. His wife Ellen (Michelle Williams) is a dedicated ER surgeon whoworks on long shifts. Because of their demanding careers, their daughter Jackie(Sophie Nyweide) is left to the care of her Filipina nanny Gloria (MarifeNecesito). When Leo sets off to Thailand on a business trip, Ellen noticesthat her busy schedule is keeping her away from Jackie. She tries to spend moretime with her but ends up struggling to compete with Gloria for her daughter'sattention.
Gloria, on the other hand, left her two boys in a Philippineprovince to work abroad. Through phone conversations with her eldest son,Gloria's story unfurls. She is a single mother who plans to build a house forher children. Although she is not used to being away from her kids, she has tobe strong in order to provide for them. Her sons miss her terribly and demandthat she come home soon. Gloria's stoic demeanor slowly shatters and gives wayto tears as she hears her son's demands. As Leo, Ellen, and Gloria pursue whatthey think is best for their children, they soon realize that what they arepursuing can't really fulfill their lives after all.
ADVERTISEMENT - CONTINUE READING BELOW
There's a hefty amount of Filipino talent in
Mammoth.
We have Jan Nicdao as Salvador and Martin Delos Santos as Manuel,Gloria's sons, as well as Maria del Carmen as the kids' grandmother. But thefilm belongs to Marife Necesito who plays the caring nanny and enduring motherconvincingly.
Mammoth
is Marife's biggest break. But she has alreadyappeared in several films including Lav Diaz's
Ebolusyon ng Isang PamilyangPilipino
and
Heremias Book Two: The Legend of Tagabulag Island
.
From the looks of it, Marife will undoubtedly land more roles in the futurebecause she knows how to lose herself in the character. Marife's portrayal ofGloria is so genuine—from diction to maternal instincts, she has captured theseperfectly.
The film shows much about Pinoy culture: there are scenes shot in a localdumpsite, Marife's ward is very interested in studying Tagalog, Pinoys areshown hearing mass in Tagalog and Marife sings a Tagalog lullaby ("Ugoy ngDuyan") to her American ward. In one scene, Marife's character is shown buyinga basketball in New York as a gift for her son. When she reads the label, itclearly says: Made in the Philippines.
Swedish-born Lukas Moodyson (director of the arthouse film
Show Me Love
)is responsible for direction and screenplay. Lukas may be Scandinavian, but hehas realistically captured the struggles and aspirations of Filipinos as if hewere a Filipino himself. His exploration of virtues andsensibilities in a developing country is sweeping and insightful.
Manila and New York City may be on opposite ends of the world but when it comesto family matters, parental love is universal, regardless of nationality andsocial class.
Mammoth
is a humanist study about the dynamics of working parents whomay be providing the needs of their children but are largely absent in theirlives. It's a subject matter that a lot of Filipinos can relate to, especiallywith the growing number of OFWs today. Parents often forget about their realpriorities while chasing their dreams of a good life. I'm not saying that theyare bad parents. Their intentions are good, but there are negativerepercussions that must be addressed.
In the end, the film teaches us an important lesson: appreciate what you havenow before it's gone, before it becomes extinct.
Mammoth
was nominated for the Golden Berlin Bear award in the 59thBerlin Film Festival.