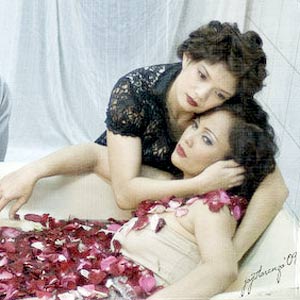 ---
Tanghalang Pilipino did this generation a greatfavor by re-staging Flores Para LosMuertos, the Filipino translation of Tennessee Willam's Pulitzerprize-winning play A Streetcar NamedDesire.
Flores was firststaged in 1975 at the Old Raja Sulayman Theater in Fort Santiago, Manila, under the direction of the great Lino Brocka, a fleeting moment inPhilippine theater that theatergoers now wished they experienced. The play hasbeen revived every generation or so.

Director Floy Quintos, who considers the Brockaproduction of Flores as one of the"epiphanies" of his youth, revives the play using a set of young actors tooyoung to remember the iconic Elia Kazan film version, who never saw LauriceGuillen and Phillip Salvador in the original staging, but whose "modernsensibilities and experience may add a fresh take on the text."

Quintos did not tamper with the text, nor withWilliams' props and setting, but directed instead with restraint, moving aroundthe time period of the play and the sensitive translation of Streetcar by the late Orlando Andres.

The result is a smooth, sexy, fade-to-sunsetfeel.

In Flores,Eula Valdes plays the coveted role of Blanche Dubois, a fading Southern belle inconstant fear of her fading looks and missing marriage prospects. After losingtheir ancestral southern plantation Belle Reve in mortgage, she leaves the townof Laurel, Mississippi to visit her sister Stella Kowalsi (Meryll Soriano) inNew Orleans, under the pretense that she has taken a leave from her job as anEnglish teacher because of her upset nerves. Stella, who is expecting a child,receives Blanche with warmth but hesitantly, fearing the reaction of herdomineering husband Stanley (Neil Ryan Sese).

Blanche instantly clashes with Stanley, aworking-class Polish immigrant, who is not only irritated by her haughty airbut convinced that Blanche lost their family plantation out ofcarelessness, thereby losing Stella's share of the family wealth. As the monthswear on, Blanche develops a relationship with Mitch, Stanley's best friend, andhas settled her mind on marrying him. As Stella's delivery nears, Stanleyuncovers Blanche's past and tells Mitch, who quickly breaks off the engagement,leaving Blanche lost and desperate.
ADVERTISEMENT - CONTINUE READING BELOW

On the night of Stella's delivery, Blanche andStanley are left alone in the house. Stanley confronts her with her secretsand, succumbing to baser instincts, rapes her—permanently shattering her sanity.

Stanley commits her into an asylum, but life inthe Kowalski house will never be the same again.

The last time I saw Eula Valdes on theTanghalang Pilipino stage was when she performed the title role of Zsa Zsa Zaturnah, a gay Darna whoswallows a rock the size of a fist to become curvaceous super heroine withflaming red hair. It was a little difficult to shake the image of Eula poledancing to the tune of Bonnie Tyler's TotalEclipse of the Heart.

It must have taken a lot for her to make thetransition from that kitschy stint to a delicate and nervous Ms. Dubois.

Blanche is a damaged character from the start,struggling to disguise her alcoholism and insecurity with pretensions of virtueand culture. Eula, with her natural gift for portraying outlandish characters,created a very Pinay Blanche—a little more humorous than the Kazan- Vivien Leighversion.

But what really surprised me was Meryll as theromantic, slightly masochistic Stella, who tolerates Stanley's cavemanbehavior because of his animal magnetism. Her portrayal of Stella isexaggeratedly feminine and unbelievably sexy.


Streetcaris famous for its many memorable moments: Marlon Brando's pushy and cry-babyish"Stellah!"; the climactic "I don' want realism, I want magic!"; and the poignant,perhaps the most memorable Blanche Dubois line, "Whoever you are, I have always depended on thekindness of strangers."
But in Quintos' production of Flores, the scene that clings to mind is thefrom-front-porch-to-bedroom love scene after Stanley yells for his wife who ishiding in their neighbor's quarters.

Meryll runs down the wooden stairs in a flimsy negligee,her soft curves accentuated by the soft stage light designed to mimicmoonlight. Stanley, kneeling, presses his face to her stomach desperately, likea child abandoned by his mother. They kiss hungrily with Stella's arms wrappedaround his neck and Stanley's arm around her waist. He carries her into thebedroom where a whole night of love making is conveyed through five minutes oflove noises, soft fading and brightening of lights to show that the night hasdeepened and dawn has arrived.
ADVERTISEMENT - CONTINUE READING BELOW

Of all the Streetcarcharacters, Stanley Kowalsi is perhaps the most intriguing. Quintos considersthis one of the "traps" in producing the play.

"Who's playing Stanley, everyone asks, as if theplay were all about Stanley," Quintos says in the director's notes on the Floressouvenir program. "But try googling Streetcar and whose picture comes up?Marlon Brando's, of course. So most everyone who comes will come to see how thelead actor measures up to Brando's Stanley. And the much vaunted male sexualitythat he imbued the role with. Which sets almost every actor playing the role upfor failure."

And I was no exception—I was looking forward tothe Pinoy version of Stanley.

Neil Ryan's Stanley has the alpha male force,yes, but somehow lacks the very subtle boyishness the character is imbued with.That neediness for Stella's exaggerated femininity and submissiveness that makethe heart flutter. But he did succeed in producing that love-hate effect. HisStanley is a simple man who produces complex emotions: hate for his chauvinismand barbarian ways, and love for his resoluteness.

Floreswas recreated at the right time and seen by a generation trapped in atransition from past values to the present, and by a generation pining away forthe virtues of the old days.
ADVERTISEMENT - CONTINUE READING BELOW

Flores
runs until
October 25
at the LittleTheater of the Cultural Center of the Philippines. It also stars Jonathan Tadionan (Mitchel), Marjorie Lorico(Eunice), Paulo Cabanero (Steve Hubel), Gerald Napoles (Pablo Gonzales), TaraCabaero (Woman), Rocky Salumbides (Young Man), William Manzano (Doctor), andJo-Ann Requiestas (Matron).
The playdates of the Filipino version where Eula stars as Blanche Dubois will be on
October 23, 24
and
25
. Performances are scheduled at 3 p.m. and 8 p.m.
Forticket inquiries and reservations, call Tanghalang Pilipino at832-3661 and 832-1125 local 1620/1621. Look for Paolo or Lorelei.Tickets are also available in any Ticketworld outlet (Tel. No. 891-9999) and atthe CCP Box Office (Tel. No. 832-3704).
Address:
CCP Little Theater, Cultural Center of the Philippines, Roxas Boulevard, Pasay City