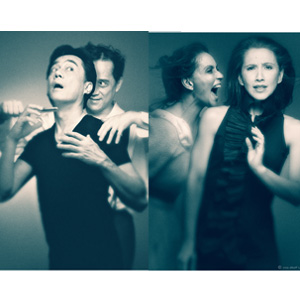 ---
Onehas often wondered what it is about StephenSondheim's Sweeney Todd that has always been the ultimate enigma for the theatreartist who is passionate about his craft.

Tobegin with, the story about a "demon barber" is not exactly what one would wantto tell little children for their bedtime story. After all, if you thinkabout it, the theme is rather grizzly. But one had to admit that there isthis nagging fascination for all that is horrible and frightening—providedyou are not part of it. So when you sit in a darkened theatre and watchthe events as they unravel, you take pleasure in some delicious, tinglysensation.

Sondheim'smusic in Sweeney Todd, is not your usual predictable sequencing ofmelody. On the contrary, to someone not familiar with his work, it mayseem jarring at first. It takes genius to create a harmonious fluidity inthe dissonance, which Sondheim seems to enjoy doing. So when his musiccombines with a story that is darkly irresistible, you're bound to haveexceptional entertainment.

Forits new production of Sweeney Todd, Repertory Philippines has broughttogether the talents of two of the most respected actors in Philippine theatretoday: Menchu Lauchengco-Yuloplaying Mrs. Lovett, and Audie Gemoraessaying the title role.

Menchuhas had 25 years of theatre behind her, and has starred in West Side Story, Camelot, The King and I, Evita—to name a few. And as for Audie, he has hadso many theatre-related functions that one is simply in awe of hisaccomplishments. But it is in his dedication as a prime actorthat marks his career.

Sowhen one asks these two accomplished artists why they have agreed to comeout in Sweeney Todd, the responses are quite remarkable. For all thevaried productions and roles they have been through, they both agree on onething as far as Sweeney Todd is concerned: It is a dream come true.
ADVERTISEMENT - CONTINUE READING BELOW

ForAudie, Sweeney Todd has always been THE classic masterpiece ofSondheim. He jokingly remarks that if Repertory Philippines did notchoose to produce it, he would. With a wry smile, he says—for athletes,it's the Olympics; for actors, it's "Sweeney Todd." He adds that themusical is an art piece that has to be performed with precision, because theear has to be trained for this particular type of music. The challenge isto bring the listener to that space where the dissonance is actually harmony—as so it is!

Menchuwas in the 1982 Repertory Philippines' production of Sweeney Todd as the young girl, Johanna. Today, shetakes on the rather weird Mrs. Lovett. As an actor, Menchu finds SweeneyTodd a major challenge for the serious actor. She observes that it canbe frustrating when you "come in from the cold" and get exposed to Sondheim'smusic. It is his dissonance that makes it all unfamiliar territory. She laughingly adds, when you think you're singing it right, that's when you'reoff. And when you think you're off, that's when it's right!

It is an understatementto say that both Menchu and Audie are enjoying their respective roles; ithas been a long time coming.

Repertory Philippines' Sweeney Todd also features LieslBatucan (beggar woman), RobbieGuevara (Beadle), Robbie Zialcita(Pirelli), Franco Laurel (Anthony), Lena Mckenzie (Johanna), Marvin Ong (Tobias), Roger Chua (Judge Turpin), Juno Henares (Mrs. Lovett understudy),and chorus members: James Stacey, Meynard Penalosa, Jejie Esguerra, RedConcepcion, Raul Montesa, Rem Zamora, Oliver Usison, CollinsGutierrez, Jay Pangilinan, David Cruz, Gary Junsay, Cara Barredo,Jay Glorioso, Naths Everett, Joy Virata,Marisse Santos, Ring Antonio, Gloria Sicam,Teenee Chan and Ronna Guba.

Baby Barredo co-directs with Michael Williams. Other members of theartistic and production staff include GinoGonzales for costume design, JohnBatalla for lighting design, and MioInfante for set design. Gerard Salonga conducts the FILharmoniKA orchestra.
ADVERTISEMENT - CONTINUE READING BELOW

Sweeney Todd play dates are from November 13 to December 13, 2009 withadditional matinees on Saturdays and Sundays at Onstage, 2nd Floor, Greenbelt 1, AyalaCenter Makati City.


For ticketinquiries and other information, call Repertory Philippines at 887-0710, 888-0887or Ticketworld at 891-9999.