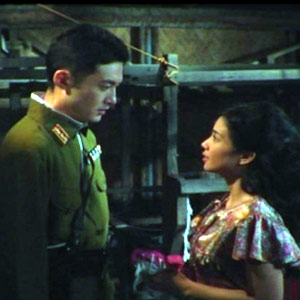 ---
One section of the 11thedition of the Cinemanila International Film Festival is the Digital Lokal whereinsix Filipino movies vie for the Grand Prize.


These are: Anacbanua, touted to be the first Pangasinense film about apoet's return to his hometown in Pangasinan; 69 ½, about a filmmakerwho accepts an offer to make a pornographic film; Ang Beerhouse, alove story about a man who falls for a girl working in The Red Light Beerhouse;Biyaheng Lupa, a road trip movie; Dolores, which tackles theplight of a girl who is sexually abused by her family members; and Iliw,a love story set during World War II.

Former recipients of the Grand Prize, like Brillante Mendoza's Manoroand Raya Martin's Autohystoria, have been arthouse favorites but nonehave crossed over to the mainstream successfully. From the toast of homegrowntalents that found their way to Cinemanila this year, Bona Fajardo's Iliwand Jon Red's Ang Beerhouse may have slim chances in clinching the topplum but at least they are commercially viable—thanks to star power andmainstream appeal.

Last Friday, October 23, the winners of the Digital Lokal as well as the othercategories were announced at the NBC Tent in Taguig City. (CLICK HERE to viewthe complete list of winners).
ILIW. During World War II, Fidela (KayeAbad) and Colonel Takashi (Hiroyuki Takashima) find love in each other's armsdespite everyone's disapproval. As the war comes to a close, Colonel Takahashi is ordered by the Japanese Imperial Army to destroy Vigan and make ituninhabitable. Because of his love for Fidela, he disobeys his superiorsand leaves the town unscathed.
As a non-English speaker, it musthave been hard for Hiroyuki Takashima to communicate with his co-actors. But his charisma gave him strong screen presence. His chemistry withKaye Abad is palpable.
ADVERTISEMENT - CONTINUE READING BELOW
The rest of the cast includes Ping Medina as Fidela'schildhood sweetheart, Irma Adlawan and Amante Pulido as Fidela's parents, AlexMedina as Fidela's brother, Charee Pineda as Fidela's friend, and Ron Moralesas the leader of the guerilla movement.
Iliw wants to be an epiclove story. It's the classic tale of forbidden romance between warringnationalities. It's an ambitious film, notwithstanding its limited resources.Dubbed as a film tourism project to promote the historic town of Vigan (aUNESCO World Heritage Site), the filmmakers manage to create visualeloquence. They succeed in capturing the picturesque Spanish colonial town inall its glory.
However, the focal romance is notas compelling as it ought to be. The film's narrative excess could have beentrimmed down to make a more cohesive picture. Overall, it's still refreshing towatch a period film that promotes the beauty and mystique of our nationalheritage.

ANG BEERHOUSE. Noynoy (Ryan Eigenemann)and Brad (Hector Macaso) own a "business establishment" fronting the Red LightBeerhouse. At first, they're content to peep through the cabaret'swindow to see the almost naked bodies of women dancing onstage until Jewel(Gwen Garci) catches Noynoy's fancy. Noynoy soon becomes enamored with Jewel'sallure, but what he's after is more than just a one-night affair. He playsknight in shining armor to Jewel's damsel in distress. And so his missionbegins: to save Jewel from the beerhouse.
Aside from Noynoy and Jewel, therest of the characters in Ang Beerhouse are caricatures we've seencountless times in past comedies. We have the evil pimp, his dumbassistant, the dancer with a Visayan accent, the loud gay floor manager, andBrad, the protagonist's sidekick whose command of the English language is as "suave" as Jimmy Santos's.
ADVERTISEMENT - CONTINUE READING BELOW
There is a lot of talent in thecast. We get convincing but not over-the-top performances from Ryan Eigenmann,Epy Quizon (the money-hungry pimp), and Joel (the hot-tempered beerhouseowner). But if I could single out one actor from the bunch, I would pick HectorMacaso hands-down. With his comedic timing and hilarious delivery, he gives usenough reasons to laugh. Meanwhile, it's a completely different story for thegirls.

Che Ramos, who had a magnificent turn in Jerrold Tarog's Mangatyanan, is reduced to playing a vacuous character—a stripper who is always stoned.Gwen Garci, on the other hand, can play coy and cute but once a scene demandsher to display more emotions, it turns into disaster.
Although the gag show antics areundeniably funny and some insights can be pretty clever, Ang Beerhouse amountsto nothing new in the end. But if all you need is a funny film you can watchwith your buddies, then this film would gladly serve that purpose. You'll beassured of laughter—whether you're sober or not.