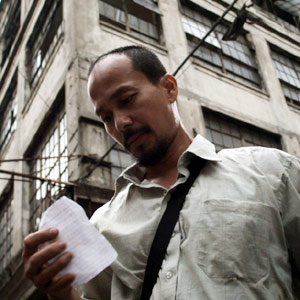 ---
Before Brillante Mendoza made a splash in Cannes, there was Raymond Red. As one of the pioneers of the alternative cinema movement in the Philippines, Red is so far the only Filipino who has won the Palme d'Or, the highest honor in Cannes, for his short film Anino.
After a long spell, he returns with his latest full-length feature. Himpapawid (international title: Manila Skies) had its world premiere at the Tokyo International Film Festival. It was also chosen as the closing film of the recently concluded 2009 Cinemanila International Film Festival.

Inspired by true events, Himpapawid follows three days in the life of Raul (Raul Arellano), a man who has exhausted all his luck. During these three days, Raul will feel what it's like to live on the margins of society, deprived of a means of living and of hope. In a desperate attempt to help his sick father in the province, he joins a group of amateur robbers. But when the heist ends terribly wrong, he decides to hijack a plane that will be his coup de grace.
Lead actor Raul Arellano embodies what his role asks for. He is filled with angst, acts a bit loony and is ill-tempered. This antihero is difficult to warm up to, but we know where he is coming from. We know what drives him to dive head first into a world of crime. But he did not turn into a criminal overnight. In fact, it took Crispin (John Arcilla) long stretches of monologue to convince him to take life by the horns. All Raul wants is to go home, but desperation (and maybe lunacy) takes him farther than his original destination.
The gang of first-time robbers (composed of John Arcilla as Crispin, Soliman Cruz as Juan, Raul Morit as Morit, and Karlo Altomonte as Karlo) provides a breather to the tension with their quirky one-liners. Beneath their funny antics, these street urchins articulate some serious matters—the disparity in the system and the social injustice that beset the working class. Meanwhile, the who's who of independent cinema appears in small cameo roles. Himpapawid also stars Che Ramos, Archie Adamos, Mon Confiado, Flor Salanga, Noni Buencamino, Lav Diaz, Ronnie Lazaro, and Sue Prado.
ADVERTISEMENT - CONTINUE READING BELOW
If you know the true-to-life story that inspired the screenplay, then you already know the fate of our deranged protagonist. But there's more to the ending than knowing Raul's fate.

Raymond Red weaves an intricate story that comes full circle at the end. He makes use of all the hints he dropped along the way—the beginning sequence of father and son, Raul collecting protest signs, and Raul sewing every night—and everything starts to make sense.
Himpapawid does not make excuses for the wrongdoing of Raul. The film doesn't even demand that we understand him. Because he is not a victim, the disparity in the system and social injustice are not to be blamed for his actions. He had a choice. And so, karma rears its ugly head and Raul is brought to his final destination.


SYNOPSIS. Himpapawid tells the story of a lone deranged hijacker pushed to the edge of insanity as he struggles with the oppression of surviving in modern Philippine society. Inspired by the true story of the May 2000 PAL Flight 812 hijacking en route from Davao to Manila, the film follows the tale of a desperate man from the countryside on a wretched path to destruction that ultimately leads him to the insane hijacking of a plane.