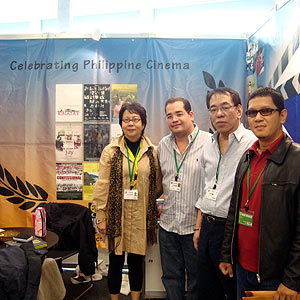 ---
The Film Development Council of the Philippines (FDCP) set up a Philippine Booth at the TIFFCOM 2009 Marketplace for Film and TV in Asia held at the Roppongi Hills in Tokyo, Japan last October 19 to 23, 2009.


TIFFCOM 2009 is the affiliated market of the Tokyo International Film Festival and is an annual event aimed to encourage global entertainment businesses by providing an efficient marketplace in Asia for all content holders and buyers in the world.


This year, two Philippine films were included in the lineup of the 22nd Tokyo International Film Festival: Raymond Red's Himpapawid competed in the Main Section while Jon Steffan Ballesteros' Colorum was in the Asian Program.

Heading the Philippine delegation is FDCP chairman Rolando Atienza assisted by FDCP-PFESO executive director Digna Santiago, FDCP executive director Lali Suzara and Special Projects assistant Luigi Verzosa.

There were a lot of inquiries with regard to the Philippine film industry but most centered on co-production possibilities. These inquiries were from Japan, China and Malaysia.

Hollywood Reporter journalist Patrick Frater conducted an interview with FDCP chairman Atienza on the state of Philippine independent cinema. Mr. Atienza was quick to thank Mr. Frater for the positive review about Manila in his article published last October 12, 2009 where Mr. Frater wrote about the Philippines' booming film industry.

Meanwhile, San Francisco TV reporter and independent producer Roger Garcia interviewed FDCP-PFESO executive director Digna Santiago on the upcoming plans of the FDCP in promoting Filipino films.

A spotlight was set on the cast and staff of the Filipino film in competition, Himpapawid. They were the stars of the festival with Himpapawid director Raymond Red taking the lead with his actors Raul Arellano, Sue Prado and John Arcilla.