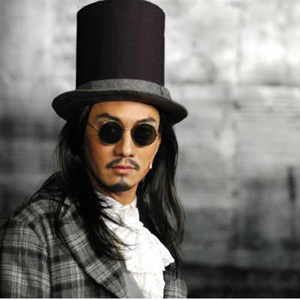 ---
El Filibusterismo, Dr. Jose Rizal's second novel, comes alive on stage as a riveting drama beginning on November 8, 6 p.m., at the Open Air Open Auditorium in Rizal Park, Manila.

Penned by playwright Jomar Fleras, under the direction of Roobak Valle, this is the final installment of Gantimpala Theater's Four Classics.
The play's central character is Don Simoun, the scheming jeweler who secretly plans a revolution is actor Roeder Camañag.

"Being Simoun is extremely tiring to do but very fulfilling," says Roeder. "The biggest challenge is to be able to convey all the complex emotions of the character knowing the obvious physical limitations. As Simoun, I must wear a wig, dark shades, an old gentleman's hat, a coat that constricts my movements. Thus, I must make use of my body effectively so that the audiences can feel my emotions."

"This season, the drama will present a more fluid narrative. We are weaving the story in such a way that the unfolding of the plot is very smooth. With the help of our director Roobak, all the actors, whether they portray major or minor roles, are discovering fresh nuances about their respective characters," he adds.

"It's my commitment to Gantimpala, that is why I always choose to play this character the fourth time," he points out. "Most people do not realize that staging the Four Classics is a big challenge and a responsibility. Our audiences are students, and majority of them are watching a theater production for the first time.


"As an actor, this is my opportunity to nurture the future watchers or shall we say supporters of Philippine theater through these plays. I am supportive of the company's advocacy, which is to present Filipino classics to the youth. They must embrace and be proud of their own heritage first. Let me concretize this, in England, when they want Shakespeare, then all they do is watch the Royal Shakespeare Company. In our country, if you are a teacher, or a well-rounded Filipino who has a liking for the classics, then by all means, it is imperative that you watch a Gantimpala play. We guarantee you that what we present is excellent Filipino theater. This is an experience you will never forget."
ADVERTISEMENT - CONTINUE READING BELOW

Camañag's co-actors are Dante Balois (Padre Florentino), Ronald Concepcion (Kabesang Tales), Abel Napuran (Tata Selo/Don Custodio), Francis Cruz III (Basilio), Hazel Orencio (Juli), Pamela Hundana (Doña Victorina), Billy Parjan (Kapitan Tiyago/Ben Zayb), Kristian Chua (Isagani), Meldea Flor Formacil (Paulita Gomez), Mark Paolo Angelo Cayabyab (Juanito Pelaez), Arkin Da Silva (Placido Penitente/Imuthis), PJ Paule (Padre Salvi) and Richard Manabat (Padre Camorra).

Why do you love the theater? "It has changed me as a person, definitely," he answers. "If one would apply the discipline he has learned in theater to his life, you can achieve so much. It has enriched my life ten folds. It made me more sensitive to the feelings of others. Let's face it, a theater play is always a product of group effort. It will not run without team work that is why sensitivity is very important. Theater makes you aware of the fact that you can not do it all alone, each and every one is important. You have to care for your co-actors and you have to love your audiences as well."


The other production people involved in this classic are Joseph Mattheu (Lights Designer), Charyl Chan-de Guzman (Production Manager), Glendel Dacumos (Stage Manager), Jojit Lorenzo (photos) and Tony S. Espejo(Artistic Director).

El Filibusterismo is fully supported by the National Park Development Committee and Everbilena.

Other performances are slated on November 13 and 14, (10 am/2 pm), Cinema 3, SM Southmall in Las Piñas, November 20, 21, 27 and 28 (10 am/2 pm) at the AFP Theater in Quezon City.
ADVERTISEMENT - CONTINUE READING BELOW

For information, bookings and ticket reservations, please call 899-5745, 896-3503, or 474-5198.