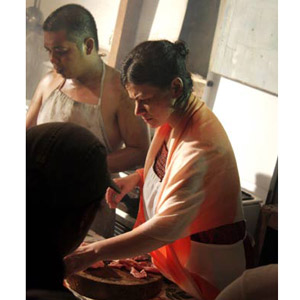 ---
The Cinema One Originals Digital Movie Festival handpicks five scripts from hundreds of submissions and gives each filmmaker a seed grant of P1 million for production. Compared to its more popular counterpart, the Cinemalaya Philippine Independent Film Festival, the entries for Cinema One Originals are said to be more experimental and out of the box.

In line with this notion, I bet no other film from this year's roster will be more unconventional than Ray Gibraltar's Wanted: Border. He is best known for the film When Timawa Meets Delgado, a modest indie production that he wrote, directed and edited in 2007. Although his debut effort did not win any award or international citation, critics hailed it as an important film that every Filipino should see. Even the late Alexis Tioseco, a renowned film critic, championed it. When Timawa Meets Delgado tackled the nursing boom in the Philippines through its peculiar brand of faux documentary and visual poetry.

This same peculiarity and pizzazz can be seen in Wanted: Border. This black comedy slash horror film is about Mama Saleng (Rosanna Roces), a religion freak who wants to be crucified for the Holy Week. She was bullied throughout her childhood because of rumors that she hails from an aswang lineage. Now at 60, Mama Saleng owns an eatery and boarding house. Her eatery is famous for her delectable Kansi. What her patrons don't know is that her secret ingredient is fresh human meat from her slain boarders. Before you accuse Wanted: Border of ripping off the Johnny Depp-starrer Sweeney Todd, the similarities end with the subplot of human meat being turned into mouth-watering delicacies.

The film will probably receive sneers and jeers from devout Catholics for its atypical interpretation of the Seven Last Words. Moreover, Wanted: Border deals with how destructive man's innate lust for violence can become. Part of the reason behind Mama Saleng's thirst for blood is her traumatic childhood, climaxing when the townsfolk killed her grandmother on suspicion that she was a man-eating ghoul. And there's another character who nurture her killer instincts. The townsfolk and the surprise character bring the aswang out of Mama Saleng.
ADVERTISEMENT - CONTINUE READING BELOW

Ray Gibraltar has a knack for non-linear storytelling (read: the narrative is not in chronological order), cutting to different time frames and segueing to different characters. Initially, it seems as if we are presented with random characters set in a hodgepodge of trivial and nonsensical circumstances. Aside from Mama Saleng and her daft assistant, the other characters include the nosy obese girl, the rugby-sniffing documentarist, and the sexually abused girl who finally extracted her madcap revenge. They are all characterized by crude behavior, sexual innuendo, and plain insanity.
Although it isn't easy to make sense of Ray Gibraltar's message, it isn't hard to appreciate the film's dark fantasy. He confidently showcases his bravura in creating a grotesque world reeking of drabness and madness. And to make our viewing experience more leisurely, bits of humor are inserted here and there.

Wanted: Border is an entertaining and thought-provoking experimental project that will keep you optimistic about Philippine alternative cinema.


During the awarding ceremony held at the Dolphy Theater last night, November 15, Wanted: Border took home the lion's share of the trophies, including Best Picture. It also earned for Ray Gibraltar the Best Director plum and the Best Actress award for Rosanna Roces. It also bagged the awards for Best Screenplay, Best Production Design, Best Cinematography and Best Music.

Watch Wanted: Border and the other four finalists of the 5th Cinema One Originals Digital Movie Fest at the Gateway Mall from November 13 to 17.

CLICK HERE to check the schedule of screenings.