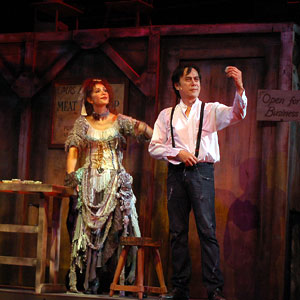 ---

The tale of Sweeney Todd is not for the faint-hearted, not only because of its gory themes: mass murder and cannibalism; its premise that "the history of the world is who gets eaten and who gets to eat" sounds outrageous.

Stephen Sondheim's Sweeney Todd, the Demon Barber of Fleet Street is a deliciously perverse piece known for its energy and odd humor. It's the portrait of a man coming to terms with one of the world's ugliest realities—to survive, one must choose, like animals in the wild, to eat other animals or be eaten.

Mr. Todd, after 15 years of imprisonment and several days of controlled rage, gives in to his bloodlust with a manic smile on his face.

Almost three decades after Repertory Philippines first staged Sweeney Todd, veteran thespians Audie Gemora in the title role, and Menchu Lauchenco-Yulo as Mrs. Lovett, reprise the roles of the feisty duo of murderers who exact vengeance on the world for their sordid state by indiscriminately killing men and turning them into—gasp!—meat pies.

Menchu appeared in the 1982 production as Johanna. She returns to the 2009 production to give a powerful performance as the nutty yet ambitious pie maker.

Baby Barredo now co-directs this production with Michael Williams.

THE PLOT. Like any serial killer, the grim Mr. Todd was not a born murderer. Once upon a time, he was Benjamin Barker, a happy young barber who had a shop on Fleet Street with his beautiful wife Lucy and their infant daughter Johanna. Unknown to him, Lucy had caught the eye of the city magistrate, Judge Turpin (Roger Chua), who immediately exiled him to Australia on false charges so he could claim Lucy.

After 15 years in exile, he returns to his old quarters in London, hoping to find his family. He encounters Mrs. Lovett, the proprietor of the building and owner of a gritty meat-pie shop below his apartment. Mrs. Lovett complains about her crumbling business ("Worst Pies in London") and the bad economy.
ADVERTISEMENT - CONTINUE READING BELOW
Todd suggests that she rent the apartment upstairs to make ends meet, but Mrs. Lovett tells him the place is haunted and recalls how, after the previous occupant was shipped to Australia, his wife poisoned herself after Turpin raped her and that the child became the judge's ward.

Todd cries in agony, confirming Mrs. Lovett's suspicion that he is indeed Benjamin Barker. Maddened with rage, he vows vengeance on Turpin, but the ever practical Mrs. Lovett, concerned with how he must earn his keep, brings out his old set of razors and suggests that he make a living as a barber again. Todd raises the razors and with maniacal glee, shows that he has chosen his weapon for revenge against Turpin ("My Friends").

One day in the marketplace, a supposedly famous Italian barber Adolfo Pireli and his simple-minded assistant Tobias Ragg are pitching a miracle tonic for hair loss ("Pirelli's Miracle Elixir"). Todd exposes the fraud, and challenges Pirelli to a shaving and tooth-pulling competition, inviting Turpin's aide, Beadle (Robbie Guevarra), as a judge. Winning the challenge, Todd gains the patronage of the community, ensuring a steady stream of customers—among them his tormentors in the past.

Providing the love angle in this twisted tale is Anthony (Franco Laurel), a young immigrant whom Todd befriended on the ship to London. Anthony falls in love with a young woman named Johanna (Lena Mckenzie), who is actually Todd's daughter now all grown up.

The saga of Mr. Todd continues to spiral downward until it concludes with a pile of dead bodies.


THE VERDICT. Repertory Philippines outdid itself in terms of acting and production values.

The costumes and the set design are amazing. The play opens to a gloomy, foggy landscape of 19th century London where people struggle to survive the urban decay.

The misery of the city dwellers is reflected in the costumes, designed to be half-rags, half-traditional London dress. The women wear corsets and full skirts with layers of lace and velvet, while the men look dashing even in drab vests, stained shirts and worn-out shoes.

Compared to other Repertory productions this year, the set design for Sweeney Todd is more elaborate. There's the sliding barber's chair that deposits victims to Mrs. Lovett's work area. There's also a huge oven, perfect for baking meat pies, that emits a fiery orange glow.

The play also boasts excellent vocal coaching. The cast is a mixture of foreign and local actors but one can hardly distinguish in speech. By going full cockney, the play draws the audience to British humor and British sensibilities. The play, however, is still considerate of its Filipino audience because the gestures are still very Filipino.

With a gruesome subject, the dominant emotion in Sweeney Todd should be dread, like most film versions not starring Johnny Depp. Repertory's version, however, focuses on the humorous side of the play.

Those who have only seen the Tim Burton film version starring Johnny Depp can enjoy the Repertory production as another version of the Burton film but definitely funnier. But those who have seen the other possibilities of the story will wonder if Repertory is just being too wholesome or family friendly. In fact, hardly any blood was shed during the entire production.

Most of the memorable scenes in the play are the comic situations. Worth telling friends is the shaving and tooth pulling contest that seems like a scene from an old Dolphy and Panchito movie.

But my favorite scene is what I consider the heart of the play: the part where Mr. Todd and Mrs. Lovett try to set the parameters for killing. Will they kill a priest? an accountant? a lawyer? a marine? "an oily politician served on a doily?" to which Mr. Todd, obviously tickled by the idea tells her to "put it in a bun because you'll never know when it's going to run."

Of all the actors, Menchu who stole the show. Nervous, jumpy, chatty, but affectionate all at the same time, she reigns in all those complex emotions without losing control of the character.

For their outstanding and powerful performances, the cast members rightfully deserve the standing ovation they received on opening night.

Repertory Philippines' Sweeney Todd (The Demon Barber of Fleet Street) will run until December 13, with shows scheduled every Friday and Saturday at 8 pm and Saturday and Sunday matinee at 3:30 pm. Performances will be at Onstage, 2nd floor, Greenbelt 1, Makati City.

For tickets and inquiries, call Tel. No. 887-0710, 888-0887 or Ticketworld at Tel. No. 891-9999.
ADVERTISEMENT - CONTINUE READING BELOW