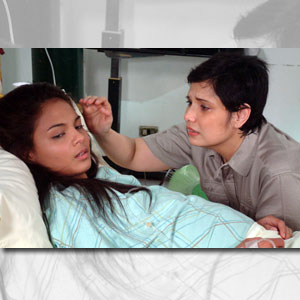 ---
Actress Snooky Serna returns to top form in Joel Lamangan's forthcoming drama, Sagrada Familia. For her new role, Snooky is demaglorized as she plays Merle Asero, a working mother and wife who applies goes abroad as an OFW for the financial stability of her family. Married to a security guard, Johnny (played by Urian award winning actor Emilio Garcia), Merle has big dreams for her daughter Kat (Lovi Poe) who wants to take up medicine. Little does Merle know that her absence causes her family to come apart.

When she returns to the country after a few years, Merle discovers that her family has disappeared. She begins to search for her husband and daughter, not knowing the tragedy that awaits her.


Snooky is very excited about her new role because her last big role was more than a decade ago in Reyna films' Inagaw Mo ang Lahat Sa Akin (1995). While Snooky recently won several awards for her portrayal as an organ broker in last year's Paupahan, and has appered in several aclaimed films this year, namely, Mel Chionglo's Bente and Joel Lamangan's Dukot, both political dramas, Snooky admits that these roles are 'supporting' in nature. But not in Sagrada Familia.

Co-star Gloria Diaz, who plays Snooky's mother-in-law in the film, admits that it is Snooky's lead performance that holds this film together. "She worked very hard in this picture, and she was always ahead of all of us in the cast on the set," recalls Gloria.

Snooky is equally enthusiastic about Sagrada Familia. "It's a very good film and I only have praises for my director Joel Lamangan."


Sagrada Pamilya is the initial venture of Legalas Entertainment Production. It will hold special screenings on Wednesday, December 23, at the Podium, Ortigas Center.