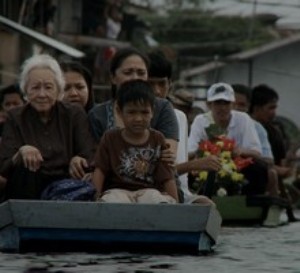 ---
Brillante "Dante" Mendoza's Lola won the Best Film in the Muhr AsiaAfrica section of the 6th Dubai International Film Festival held last Wednesday evening (December 17). The festival was held from December 9-16 and screened 168 films, including 29 world premieres.


Lola tells the tale of two grandmothers, portrayed by Anita Linda and Rustica Carpio, who are living in the depressed area of Malabon. Their houses are perennially submerged in water and they use boats to travel from one house to another.


In the film, Lola Sepa (Anita) is seeking justice for her grandson who was mugged and killed by a thief. The police catch the suspect Mateo (played by Ketchup Eusebio) who is brought to jail. He happens to be the grandson of Lola Puring (Rustica) and she does everything in her power to free him from jail.

Direk Dante accepted the Best Film award personally with French executive producer Didier Costet. Producer Ferdinand Lapuz returned to Toronto before the awards ceremony.

Lola, which was in competition at the 66th Venice Film Festival, is a co-production between Costet's Swift Productions and Centerstage productions.

This was the first screenplay of Lynda Casimiro. It features veteran actresses Anita Linda and Rustica Carpio in the title role. Supporting them in the film are Tanya Gomez, Jhong Hilario, Ketchup Eusebio, Tim Yap, BJ Go and the late Benjie Filomeno.

According to Muhr AsiaAfrica Feature Jury Chairman Bahman Farmanara said: "Judging is not an easy process, especially in art, where creativity is defined by the artists' personal discretions and considerations. But it becomes immensely difficult, and I must say very pleasing, when the quality of films selected by the organizers of the festival is outstanding. Then the whole process becomes rewarding."

He added: "This was what my fellow jury members, Manisha Koirala, Jean-Micheal Frodon, Keith Shiri, Noureddin Lakhmari and I experienced when evaluating the Muhr AsiaAfrica short-list. The quality of works was extremely encouraging and prompts us to look forward to watching good, powerful films emerge from these two territories in the future."
ADVERTISEMENT - CONTINUE READING BELOW

There were 15 films which competed in this section. It included South Korea's Joon Ho-Bong's Mother, which was shown in the Un Certain Regard section last May in Cannes, has been selected as South Korea's official submission for the Academy Award for Best Foreign Language Film at the 82nd Academy Awards and is nominated for Best Foreign Film in the Indie Spirit Awards; and Iran's Shirin Neshat's Women Without Men, which won the Silver Lion for Best Director Award in Venice last September.

Direk Dante won the Best Director award at the Cannes Film Festival last May and in Sitges, Spain last September both for Kinatay.

Lola was created through the help of cinematographer Odyssey Flores, musical scorer Teresa Barrozo, editor Kats Serraon, sound engineer Albert Michael Idioma, art directors Harley Alcasid and Cris Garrido, assistant director Mark dela Cruz, line producer Aurora Cruz, associate producer Coney Alcantara-Go, supervising producers Antonio del Rosario and Antonio de Guzman Jr. and Centerstage staff Rene Colinares, Boyet Abajero and Raymond Nullan.

The producers would like to thank the Filipinos who helped them in Dubai namely Anna Lisa Instrella-Saline and husband Jay Salinel, Richard de Jesus, Gerry Ferreras, Jenny Asuncion, Jeffrey Soliman, Ruel Vasquez, festival guide Dexter and Oscar Cruz.
Lola is represented by the Match Factory worldwide.


Here is the synopsis of the film provided in the official website of the 6th Dubai International Film Festival:


"Lola (Tagalog for 'grandmother') is a simple tale, yet loaded with emotion and profound moral dilemmas. It tells the story of two elderly ladies and their respective grandsons. One's lying on a slab in a morgue following a brutal mugging, the other is the guilty party, arraigned in prison awaiting trial. Despite being devastated by his death, Lola Sepa and her impoverished family must bear the burden of making the funeral arrangements, as well as the legal pursuit against the suspected murderer, while the equally poor Lola Puring is committed to getting her grandson Mateo out of jail."
ADVERTISEMENT - CONTINUE READING BELOW

CLICK HERE to read PEP's review of Lola.