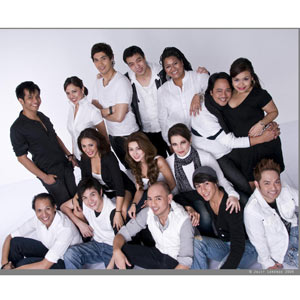 ---


9 Works Theatrical's new production Rent presented to the media a sneak peek of their on-going rehearsals at the Rockwell Dance Studio 1 located at Rockwell Club, Makati City.

Rent is set in New York City's gritty East Village, and this revolutionary rock musical is an imaginative retelling of the classic Puccini opera, La Boheme. This unforgettable and timeless story of a group of starving artists, who, despite poverty and illness, learn to fall in love and find their voices, brings a universal message of hope for everyone.

Winner of the Tony Award for Best Musical and the Pulitzer Prize, Rent with book, music and lyrics by the late Jonathan Larson, has made a lasting mark on Broadway with songs that rock and a story that really resonates.

Two production numbers "La Vie Boheme" and "Finale B" were performed with very basic props only.


"La Vie Boheme" is the finale number of Act 1, that starts off as a mock-answer to the statement "Bohemia is dead," smugly exclaimed by the quasi-antagonistic character Benny (Noel Rayos). As the song progresses, the rest of the cast, led by Mark (Fredison Lo), show the audience the contrary: that bohemia is not dead, but indeed very much alive through the lifestyle they all choose to lead with much passion and fun.

"Finale B" is the closing number of the entire show. It encapsulates the whole message that Rent aims to speak of: there is NO DAY BUT TODAY and that life is meaningless WITHOUT YOU or without each other.

The artistic team led by director Robbie Guevara, choreographer Charles Thompson and vocal coach Onyl Torres fused together their expertise in bringing out the message of the two songs.

Robbie Guevara, who also handles the acting workshop before each rehearsal session, made use of various theatre exercises that helped the cast formulate their own thoughts and decisions about their characters. The exercises also included activities that made sure the cast was working as a unified ensemble.

Charles Thompson emphasized on the body movement in order to effectively reflect not only the lyrics of each song, but the melodies that the composer wrote to convey the true feelings and thoughts of each character. He started by giving the cast dance classes, which gave them a uniform sense of body movement, then proceeded on to the specific choreographies per number, in constant consultation with the Director.

Onyl Torres studied the voice qualities of each member of the cast and ran them through 'warm up' techniques. Power and strength are two key elements needed to sustain the vocal requirements of the musical. In teaching the songs, he further refined the notes by emphasizing their nuances in detail.


The cast of Rent includes Gian Magdangal as Roger Davis, a songwriter who is HIV positive; Fredison Lo as Mark Cohen, an independent filmmaker and Roger's roommate and Nicole Asensio as Mimi Márquez, an exotic dancer with HIV.

The cast also features OJ Mariano as Tom Collins, a gay philosophy professor and anarchist with AIDS; Carla Guevara-Laforteza as Maureen Johnson, a bisexual performance artist; Noel Rayos as Benjamin 'Benny' Coffin III, the local landlord and a former room mate of Roger, Mark, Collins, and Maureen; Job Bautista as Angel Dumott Schunard, a gay drag queen percussionist with AIDS; Jenny Villegas as Joanne Jefferson, a lawyer, who is Maureen's partner; and Cara Barredo, as Mimi Marquez (at certain performances).

Ensemble members include Ring Antonio, Peachy Atilano, Johann Dela Fuente, Harold Cruz, Gary Junsay, Raul Montesa, Anna Santamaria and Mark Tayag.

The Rent production team is composed of executive producer Santi Santamaria, director Robbie Guevara, production manager Weng Lopez, musical director Ceejay Javier, vocal coach Onyl Torres, vocal consultant Lionel Guico, scenographer Mio Infante, lighting designer Martin Esteva, sound designer Rards Corpuz, PR / publicity director Toots Tolentino, PR manager Jonjon Martin, cast photography by Jojit Lorenzo, production photography by Sandee Guevara, marketing manager Shelyn Tayanes, and stage manager Jojo Amboy.

Rent is presented through special arrangement with Music Theatre International (MTI).


Show dates of Rent are February 5, 6, 7, 12, 13, 14, 19, 20, 21, 26, 27 and 28.

Fridays, Saturdays and Sundays at 8:00 PM

Saturdays at 3:30 PM & Sundays at 4:30 PM


Venue: Carlos P. Romulo Auditorium, RCBC Plaza, Ayala Corner Sen. Gil Puyat Avenues, Makati City 1200

For tickets, please call 557-5860 or TicketWorld at 891-9999.



ADVERTISEMENT - CONTINUE READING BELOW