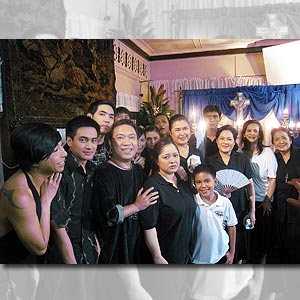 ---
As the country's official entry to the Foreign Language Film category of the forthcoming 82nd Academy Awards, Grandpa is Dead (Ded na si Lolo) aims to conquer the international movie scene with its Filipino wit and concept.
"I cried when I was alone in my room," admits Soxie Topacio, who is the director and writer of the film. "I felt surprised, proud and unbelieving of the power of my story and the film. It makes me happy to learn that it touches so many people, even foreigners."
As part of its campaign for the Oscars, Grandpa is Dead, a digitally remastered version of Ded na si Lolo, is being screened in the United States to aid the film in achieving the necessary publicity and buzz to reap an Oscar nomination.
Produced by APT Entertainment, in cooperation with the Directors Guild of the Philippines, the film has been receiving positive feedback from Filipino communities abroad. "Binuhay nito ang pagiging Pinoy ko. Iba't-iba pa ang narinig ko na reviews and lahat sila positive," reveals Direk Soxie.
In fact, after their screening at the Royal Academy Theater in Burbank, California, they were congratulated by no less than the president and CEO of the Academy, Robert Holguin. "He told us that he enjoyed the film and promised to help us in the promotion and whatever assistance Grandpa is Dead would need for the Oscars."
Helping Filipinos Go Forward
True to its catchphrase, Bayan ni Lolo, Bayan ng Pilipino, Grandpa is Dead opted to donate half of the proceeds it would garner from the screenings to the victims of the recent typhoons that hit the Philippines. This way, the film is able to respond to the unremitting support of Filipinos for the film.
ADVERTISEMENT - CONTINUE READING BELOW
Direk Soxie adds: "Now Malou [Villacineros] wants to organize a support group of Filipinos to find out what they can do to help the film for the Oscars. Another guy who collects indie films here [in the U.S.] said, 'if ever you get recognized by the Oscars, it will help boost the declining Filipino film industry.'" Malou Villacineros is a PETA (Philippine Educational Theater Association) member and close friend of Direk Soxie.
A reflection of Philippine society, Grandpa is Dead depicts Pinoy pride and the bayanihan spirit in the time of grief and death through the different scenarios that one family had to endure during the six-day wake and burial of their father.
This drama-comedy film is based on Direk Soxie's early experiences with death as he observed the burial of his aunt, which is complicated by several superstitions they had to follow. Cast members of the film include Elizabeth Oropesa, Gina Alajar, Roderick Paulate, Manilyn Reynes, Rainier Castillo, BJ Forbes, and Dick Israel.