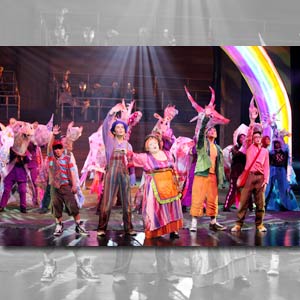 ---
"Did I hear you right? N.O.A.H. got cancelled due to floods?" a U.S.-based friend humorously asked on Facebook minutes after I posted that the last weekend of TRUMPETS' musical N.O.A.H. (No Ordinary Aquatic Habitat) had to be cancelled because of typhoon "Ondoy."
It was highly ironic—cause for amusement and deserving of sarcasm - but that was early on September 26, 2009 and neither of us had any idea what kind of devastation "Ondoy" would wreak throughout the day.
A month later, TRUMPETS actors and production people gathered to "assess the damage," so to speak. Many had been affected by the floods and had harrowing stories to tell.
Our make up artist, Johann dela Fuente, recounted how he and his father had to swim to a building under construction to escape the raging waters that had engulfed their house. Our dance captain, Rizza Ribo, braved floods to get to Meralco Theatre only to find the show had been cancelled—all the while tearfully worrying whether her dog was able to reach higher ground as her family had done.
ADVERTISEMENT - CONTINUE READING BELOW
Then there was Mr. Noah himself, Carlo Orosa. His 70-year old mother and infant nieces were trapped in neck deep murky waters in Cainta, Rizal and were saved by a resourceful nephew who floated them to safety on a bed mattress.
Yet each distressing tale was capped with how God had given them the strength to get through their ordeals, sent strangers-like angels to help and protect them in their time of need and, afterwards, provided an outpouring of love and assistance through caring friends. Despite their traumatic experiences, they were all one in acknowledging that God had indeed saved them and their loved ones from even greater harm.
Through the tears and—yes—laughter, the cast and crew were even more convinced that TRUMPETS needed to perform N.O.A.H. (No Ordinary Aquatic Habitat) so more people could hear its timely message of hope in the face of disaster!
ADVERTISEMENT - CONTINUE READING BELOW
Trumpeteers were divided into different groups and each group was tasked to come up with ideas on how to get this prophetic show seen by more people. There were great ideas like translating the musical into Pilipino so it could be performed for the a broader audience base, doing a school run and coordinating with local governments to do community-based productions.
For starters, TRUMPETS will be bringing back N.O.A.H. (No Ordinary Aquatic Habitat) to the Meralco Theatre this January 16, 2010, Saturday 3:30 p.m. and 8 p.m. and January 17, 2010, Sunday 3:30 p.m.


Tickets of cancelled shows last September 26 and 27, 2009 will be honored on the corresponding days of this special run. Those interested may buy their tickets via Ticketworld at Tel. No. 891-9999 or TRUMPETS Tel. No. 631-7252.
ADVERTISEMENT - CONTINUE READING BELOW