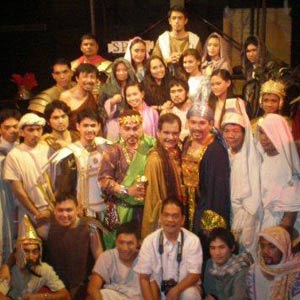 ---
Despite the modern and usually controversial approach of some of its
film and theater counterparts, Martir Sa Golgota, Tanghalang Sta.Ana's
depiction of the passion and crucifixion of Jesus Christ, sticks to tradition's something that they've been doing for the past 21 years.
Tanghalang Sta. Ana's version adheres to the Pinoy format of the
Senakulo, with subliminal implications on the coming May elections.


"I believe that we have to insert some commentary, otherwise, Christ's death would have been in vain. So yearly, we have different themes. We have integrated topics on family, drugs, abortion, peace and order," explains the director, former Councilor Lou Veloso. But we're still trying to be as close to the traditional portrayal of the Passion as possible." The music composed by Lou Veloso and arranged by award winning musical scorer Vincent de Jesus for Martir sa Golgota is also a big addition to the Senaculo play.


For Veloso, the birth of Martir Sa Golgota and of the Tanghalang
Sta. Ana came as a form of a personal Cavalry 21 years ago. These two
was a product of a persistant dream to put up a community theater in
his area.

For him, this project was a great means to introduce culture and the arts even to the people from Classes D and E, who, at normal circumstances, wouldn't have the means to watch a full-length play. "We've had more than a hundred members from all walks of life. We had drivers, teachers, mothers, out-of-school youth as members," recalls Veloso.

After the Tanghalang Sta. Ana's success in their initial production of Martir sa Golgota the theater group went on to create various productions, some of which were related to the Filipino Catholic rituals, such as the "Panunuluyan" The nine-day presentation mostly involved the poor residents of Sta. Ana as actors.

Tanghalang Sta. Ana likewise toured the community to stage productions tackling drugs, family life and the environment.


Veloso observes that the community theater serves as a good instrument where the youth can have something productive to keep them busy, thereby keeping them away from drugs and illegal activities not uncommon from depressed areas.

"I guess this success is one of the reasons why we're staging Martir sa Golgota," says Veloso. "For us working in this play, this serves as our annual religious offering. "We have upcoming plays for our members in Manila Mobile Theatre, Palanca Award winning plays will be our top of the list."

Movie actors Ariel Rivera, Christopher de Leon, Rez Cortez, Daniel Fernando, Rita Avila, Pinky Marquez, Tommy Abuel, Bodjie Pascua, Alma
Conception, Ricky Davao, Carmi Martin, Isabel Granada, Ronnie Lazaro, Bembol Roco, Perry Escaño, Ernie Garcia, Archi Adamos and Yul Servo have at one time or another played major roles in the Lenten offering. Its first Jesus was former action actor Raymond Keanu.

This 2010, television and film actor Migui Moreno will play as Jesus Christ alternating Jojo Riguerra and Al Gatmaitan and helping out the lead include theater, television and film actor Bodgie Pascua (John the Baptist), Don Umali and Perry Escaño (Pontius Pilate), Ernie Garcia and Alfred Marquex (Herod), Andy Bais (San Miguel), Arkin Da Silva and Jun Nayra (Judas), Abel Napuran and Gilbert Bacolod (Caiphas), Miles Africa and Myra Hipolito (Virgin Mary) , A.A Fernadez and Patricia Unsa (Magdalene), Roselle Buenaventura, Jeannete Queblatin (Claudia), Richard Manabat, Molts Menesses (Annas), and Archi Adamos (Abanader).

Completing the cast are supporting actors Xeno Alejandro and Jack Falcis (Devil), Paul Sy, Francis Cruz and Joho Gomez (Pedro) Dante Balois and Tony Roma(Nicodemus) and the Manila Mobile Theater Actors company.

"The thought that they're presenting it in several communities for free, was enough motivation for the Opus Dei believer to look at the Lenten ritual in a whole new perspective," said Veloso.

"Actually, some of the participants in this play are doing it as an offering. Seeing how passionate they are about the production, in a way, gives you drive to perfect your work. "

Martir Sa Golgota by Tanghalang Sta. Ana and now called Manila Mobile Theater will be shown on the following dates:


April 1, 2010 San Juan City Hall San Juan,
April 2, 2010 Tondo Manila
April 3, 2010 Pagsanjan Laguna City Hall

All shows starts at 6 P.M. Free admission.

For inquiries on Martir Sa Golgota by Manila Mobile Theater
and presenting it in your city or baranggay for free call 09178718511.
ADVERTISEMENT - CONTINUE READING BELOW