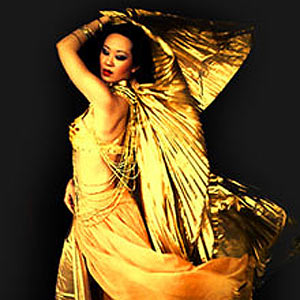 ---
With their graceful hips and come-hither eyes, the colorful swish of their beaded skirts and the tinkling sound of their coin belts, bellydancers are fast becoming today's performers of choice.


The ancient dance form with roots in multiple cultures continues to attract enthusiasts all over the world, and the Philippines is no exception. Women across the country have been flocking to dance studios and gyms, taking bellydance classes at varying levels and different styles. "It's such an encouraging sight to see so many women now getting into bellydance. Apart from being an excellent exercise, bellydance has emotional and spiritual benefits for women," says Jill Ngo, premiere bellydancer in the Philippines and organizer of the Bellyfest. She is also the director of Peak Performance Studio.

"Bellydance not only helps women become more flexible, the fluid movements also enhance their femininity. More than this, bellydance teaches women to be confident about their bodies--an issue all women battle--stop stressing about shape and size, and celebrate their authentic femininity, instead," she explains.

On June 5 , 2010, Saturday, from 1 PM to 9 PM, all these and more will be on full display as some the country's best bellydancers converge for the annual Bellyfest. To be held at the Philippine Educational Theater Association (PETA) Theater Center Quezon City, this fourth installment of the much-awaited show is now part of the theater group's Dance month calendar this year.

"We are very proud to be included in PETA's Dance month line-up. This really legitimizes the bellydance art form in the Philippines and we are very honored to be working with a theater group that has been promoting local performing talents for so many decades," enthuses Jill. "I can still remember when Filipino bellydancers and bellydance enthusiasts didn't have so many venues for performing and learning the art. Now, there are good bellydancers from Luzon down to Mindanao. And thanks to PETA, we can say that bellydance has truly come a long way," she adds.
ADVERTISEMENT - CONTINUE READING BELOW

The celebration of feminine grace and beauty has been held annually since 2007. This year, it shows no sign of stopping, getting even bigger and better.

"This year, our theme is about finding the music of your heart, which is something that women also discover when they get into bellydance. It's also really about expressing how unique you are as a woman and showing others all that secret inner beauty," Jill proclaims.

The show will feature a young musician's quest for the perfect harmony and will thus highlight various bellydance styles (all the better to emphasize the diverse beauty of women). From the powerful undulations of the Egyptian style and the hypnotic flow of the Chinese style, to the energetic frenzy of Brazilian bellydance and the intense movements of Spanish bellydance, audiences can expect to be dazzled by this year's show.

Sharing their performances and choreographies are the country's most prominent bellydancers, including Jill Ngo, Arcel Benson, Nilda Boquiren, Lovely Rodriguez, International bellydancer Belynda Azhaar, Zumre, Priya Murugesan, Gladys Mallari, and Jill Ngo's Goddesses of Bellydance, the country's biggest professional bellydance troupe, among others.

Apart from showcasing various bellydance styles, the concert will have segments featuring the recitalists of top bellydance instructors and performances of other arts such as Brazil's capoiera and China's wushu. Bellyfest will also feature an Arabian Market featuring Middle Eastern goods, as well as bellydance clothes, accessories, videos and music.

"This is the biggest Bellyfest yet and we have pulled out all the stops to give everyone the best bellydance show in the country. I'm inviting performance artists of all kinds, dance enthusiasts, health buffs, and of course, women of all shapes and sizes to enjoy this experience," concludes Jill.

Catch the Bellyfest 2010 fever on June 5 at the PETA Theater Center in Quezon City. Tickets are priced at Php500 - Php400 for students and are available at Peak performance Dance Studio and at the PETA Theater Center. For more details, please call 0917-6247534, 0917-8044428, 725-6244/ 5022912 or email petampro@yahoo.com .
ADVERTISEMENT - CONTINUE READING BELOW