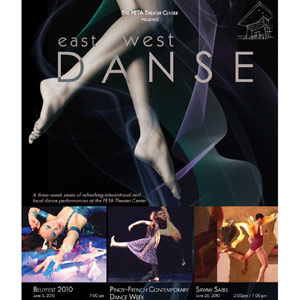 ---
With the rise of creative spaces in the area, Quezon City has been recently attracting more and more artists and art enthusiasts. To cater to this ever growing crowd, the Philippine Educational Theater Association (PETA) has opened its theater space to play host to various concerts, artistic performances and events

This June, PETA's audience members and avid theatergoers will experience a fine mix of local and international dance performances: from neo-ethnic to contemporary, Middle-Eastern to Asian, avant-garde to traditional with a three-week dance series titled East West Danse.

The first week will be a celebration of the body and womanhood through the beauty of Middle Eastern dance. Bellyfest 2010 will be a day filled with colorful dancing, dance workshops and performances as well as shopping at the Arabian themed market. After an afternoon of workshops and dance, the grand evening show will feature the finest bellydancers in the country today: Jill Ngo, Arcel Bengson, Nilda Boquiren, Lovely Rodriguez with the special participation of international bellydancer, Belynda Azhaar. Bellyfest 2010 opens 1:00 pm on June 5, 2010. Tickets are Php500 each.

The following week will be a fusion of Filipino and French contemporary dance. Contemporary movement pieces from two young Filipino artists, Rhosam Prudenciado Jr. and Donna Miranda will be featured alongside performances by the Eolipile Company, a French company known for merging contemporary dance, martial arts techniques, acrobatics and multi-media exploration. The Pinoy-French Contemporary Dance Week is a collaboration of the French Embassy with PETA. Performances are slated on June 15 and 17, 2010; 7:00pm. Tickets are Php300 each.

Agnes Locsin, foremost Filipino neo-ethnic choreographer presents her newest dance creation: Sayaw, Sabel. Known for her unconventional work, Agnes Locsin presents a performance that is inspired by National Artist Ben Cabrera's painting, Sabel. This will be a collection of dances depicting how Filipinos go through life in the midst of all their troubles and tribulations with shining resilience. Performing the piece are some of the most established names in the dance industry: Christine Crame, Annette Cruz-Mariano, Judell De Guzman-Sicam, Gaye Galiluyo, Sony Locsin, Alden Lugnasin, Ernest Mandap, Ryan Ocampo, Camille Ordinario-Joson, Georgette Sanchez and Perry Sevidal. The title role will be portrayed by the biggest names in theater: Maribel Legarda, Cecile Synangco, Melvin Lee and Shamaine Centenera Buencamino. Performances are slated on June 26, 2010: 2:00pm and 7:00pm. Tickets are Php300 each.
ADVERTISEMENT - CONTINUE READING BELOW

All performances for East West Danse will be performed at the PETA Theater Center, No 5 Eymard Drive New Manila, Quezon City (behind QC Sports Club).


For inquiries and ticket reservations, contact PETA's Marketing and Public Relations Office at 7256244 or 4100821-22, 0917-8044428 or 0916-5805153 or petampro@yahoo.com