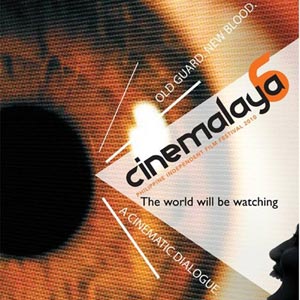 ---
The sixth edition of the Cinemalaya Philippine Independent Film Festival will kick off this Friday, July 9, with an opening ceremony that will take place at the Cultural Center of the Philippines.

The opening film of Cinemalaya 2010 is a three-part film titled Ganap na Babae.

The story revolves around a prostitute, two sisters, and a widow who come together to tell their stories about womanhood. A woman (Mercedes Cabral) bares her soul as a prostitute in front of the camera. A survivor, she looks back at her life as a mother. Milagros (Sue Prado) and Elena (Jam Pérez) are sisters tilling "camote" (sweet potato) in a dry land. Poverty pushes Elena to migrate as a mail-order bride in Japan while Milagros stays to take care of the family. Eos (Boots Anson Roa) is a widow who falls in love with a younger man, Rodrigo (Rome Mallari). They try to make the relationship work amidst the pressure of their family and society.

These three stories are interwoven to make viewers see the plight of Filipino women as depicted by three female directors. Ganap na Babae is directed by Rica Arevalo, Ellen Ramos and Sarah Roxas and produced by HUBO Productions.

In this year's edition, nine full-length films are competing in the New Breed of Filmmakers category while five movies of veteran directors are competing in the new section called Director's Showcase.

It was previously reported here in PEP why Arnel Mardoquio pulled out his entry titled Sheika from the New Breed of Filmmakers category. (CLICK HERE to read related article)
ADVERTISEMENT - CONTINUE READING BELOW

Just like in previous editions, most of the entries this year tap mainstream stars to provide star power for the film. The only exception perhaps is Francis Xavier Pasion's Sampaguita, National Flower, which taps actual sampaguita garland makers and vendors as the stars of his documentary film.


The Best Full Length Feature film will receive a prize of P200,000 and the Balanghai Trophy. The films in competition are:

Halaw by Sheron Dayoc, Limbunan by Gutierrez "Teng" Mangansakan II, Magkakapatid by Kim Homer Garcia, Mayohan by Dan Villegas and Paul Sta. Ana, Rekrut by Danny Añonuevo, Sampaguita, National Flower by Francis Xavier Pasion, Si Techie, Si Teknoboy at si JuanaB by Art Katipunan, The Leaving by Ian-Dean Loreños and Vox Populi (Siya ang Meyor Ko!) by Dennis Marasigan.


NEW BREED OF FILMMAKERS. Here are the nine films competing in the New Breed of Filmmakers category:

Halaw by Sheron Dayoc

Tausug siblings Jahid (Aljimar Hajijon) and Daying (Arnalyn Ismael) try to illegally cross the border of the Philippines and Malaysia so they can see their dying father. Shot mostly in Barangay Taluksangay, Zamboanga City, Halaw also stars John Arcilla as an illegal recruiter and Maria Isabel Lopez, an aging prostitute. The title of the movie is a Malaysian term that translates to "deported" or "rejected."

Limbunan by Gutierrez "Teng" Mangansakan II

This entry captures the rituals of a family preparing for the wedding of seventeen-year-old Ayesah (Jea Lyka Cinco) who is betrothed to a man she barely knows. As Maguindanaon tradition dictates, she is kept from public view in her private quarters called limbunan.
ADVERTISEMENT - CONTINUE READING BELOW

As preparations for the wedding are underway, Ayesah is reunited with her childhood tutor Maguid (Joem Bascon) who returns to the village as a militiaman after five years, reawakening Ayesah's past memory of childhood infatuation. Throughout Ayesah's confinement, her precocious and rebellious eight-year-old sister Saripa becomes her eyes to the world beyond her room.

Her mother Amina (Mayka Lintongan) keeps her composure despite the fact that her husband sleeps with his second wife half of the time. She finds solace in the belief that it is both her religious and familial duty to be an obedient wife.

Ayesah's aunt Farida (Tetchie Agbayani) is tasked to ensure that the young lady is prepared for the wedding. However, Farida's dark past challenges Ayesah's resolve finding herself choosing between love and loyalty to tradition and family.

Magkakapatid by Kim Homer Garcia

This entry is a story about a family that drifted apart due to socio-economic differences. Three siblings, three narratives, one tragedy, wherein a brother kills his own brother, a father struggles to accept a daughter's marriage, and a daughter who could not mourn. In a situation where even traditions can't pull them together, a tragedy drags them together.

Singer-actor Nico Antonio plays the dual roles of siblings Caloy and Cardo in this drama-suspense film. Ces Quesada and Julio Diaz portray siblings who try to piece together the tragic event that threatens to tear their family apart.

Mayohan by Dan Villegas and Paul Sta. Ana

This love story is set in Infanta, Quezon during a harvest festival called Mayohan. Amidst the festivities, Niño (Elijah Castillo), a 15-year old young outsider becomes involved in the preparation of the Mayohan's final event, the Pasayaw. His parents were killed in an accident that also left him with a weakened left leg so he has to rely on crutches to walk.

He tries to find acceptance and healing without him even realizing it. Nino is afraid to give or receive love, but as destiny beckons, one can't control what one feels.
ADVERTISEMENT - CONTINUE READING BELOW
Lilibeth (Lovi Poe) is a young woman who is more mature compared to most 19 year olds. Despite growing up as a child out of wedlock, with her mother leaving and her father not fully accepting her, and being raised by a strict grandmother, she knows how to use whatever little she has. Her life made her a strong willed woman, the type that doesn't accept rejection amidst the limitations of poverty.

Ping Medina is also cast in Mayohan as Ruben, Nino's uncle who guides him when he comes of age.


Rekrut by Danny Añonuevo
What is the measure of true friendship? A Muslim named Jamir Alura (Joem Bascon) and a Christian named Lando (JM De Guzman) are part of an elite group of young recruits formed by military officers for a classified operation. These impressionable young men would undergo intense and grueling training that put their will and strength of character to the test.

Emilio Garcia and former Survivor Philippines castaway Rob Sy are cast as Sgt. Manuel Lapuz and Waldo Palaypay, the officers who will train the military recruits. Alwyn Uytingco, Dominic Roco, Alchris Galura, and Manuel Chua Jr. are cast as the other soldiers in the military camp. Maxene Magalona plays the wife of Joem while Rich Asuncion portrays the girlfriend of JM.

Amidst all the hardships, these men set aside their differences and became brothers. But what happens when the institution they have sworn to protect becomes the wedge that will tear their brotherhood apart?


Sampaguita, National Flower by Francis Xavier Pasion

Viewers of this semi-documentary will be able to follow the 24-hour journey of the sampaguita from the time the white, fragrant flowers are plucked from the fields of Floridablanca in Pampanga until the time they are stringed into garlands and sold by street children in the crowded streets of Quiapo and Tomas Morato.

These kids often risk their lives to sell sampaguita garlands and some are even lured into prostitution.

Si Techie, Si Teknoboy at si JuanaB by Art Katipunan

Techie (Mercedes Cabral) and Jay (Christian Vasquez), both OFWs from Qatar, decide to come home for two weeks to get married. Techie is nurturing a plan to meet her virtual lover, Teknoboy (Rafael Rosell), before her wedding day. The bride-to-be connives with her high school best friend, Juana (Auriette Divina), a TV writer turned struggling indie filmmaker, to be with Teknoboy. The two women journey through Pinoy cyber culture and its many facets--online romance, cyber addiction, Facebook reunion, 3G doctor, digital wedding, cyber sex--in the process discovering many things about their lives, dreams and the society they live in. The evolution of cyber Pinoys and how relationships unfold in the middle of a hi-tech society form the core of this film.


The Leaving by Ian-Dean Loreños

This drama-suspense film features three intertwining stories that aim to represent the "social, moral and cultural scenario of the new generation of Tsinoys."


The first segment revolves around Martin (Alwyn Uytingco), who lives independently in an apartment building in Binondo. He suddenly gets laid off from his job so he decides to leave the country and work abroad. He tries to visit the places as he collects memories of his past to find answers. But the sudden strange encounters during the Chinese Hungry Ghost Festival gives him something more than what he's asking for.
ADVERTISEMENT - CONTINUE READING BELOW

In the second segment, a Tsinoy businessman named William (Arnold Reyes) is already married but finds his happiness with Joan (LJ Moreno), his charming officemate. But the uncertainty in their relationship causes Joan to decide to leave the country to start a new life on her own. But as Joan is about to leave, her departure is halted and results in an unexpected gruesome event.

The final segment is about a conservative Filipina-Chinese housewife named Grace (LJ Reyes). She moves in the apartment building with her husband in same building where Martin lives. Neglected and unappreciated, Grace finds comfort through his neighbor Martin but their relationship is fenced by their present circumstances. Grace finds out her husband is cheating on her...then a sudden haunting later on unravels a horrifying secret.

Vox Populi (Siya ang Meyor Ko!) by Dennis Marasigan

It is Saturday before the 2nd Monday of May, the last day of the official campaign period before elections. Connie (Irma Adlawan) is the daughter of a former Mayor of the town of San Cristobal and is now running for the same position. She is now running a three-cornered campaign against the former Vice-Mayor and a former student leader, helped by her brother Ricky (Bobby Andrews), campaign manager Tony (Julio Diaz) and an increasing number of supporters. Connie's chief campaign aide is Letty (Suzette Ranillo) while her other campaign aide is Sonia (LJ Moreno).

On this day, she goes out on a factory and market visit, a house-to-house campaign, attends the signing of a covenant for clean elections and her "miting de avance." She also meets with influential individuals, all in pursuit of an irreversible bandwagon that will prove she is the popular choice of the people.



DIRECTOR'S SHOWCASE CATEGORY. The Best Film in the Directors Showcase category will receive a prize of P300,000 and the Balanghai Trophy. The films in competition are:

Ang Paglilitis ni Andres Bonifacio by Mario O'Hara

This is the untold story of the trial of Andres Bonifacio under the Revolutionary Government of President Emilio Aguinaldo. Two leaders--Andres Bonifacio, Supremo of the Katipuneros, and Emilio Aguinaldo, president of the Revolutionary Government-fought for freedom for the Filipinos against the Spaniards. Yet only one should rule. This was the start of Philippine politics. Ang Paglilitis ni Andres Bonifacio is based on the transcripts of court records of the trial of the Supremo held in 1897. This film lets the viewers decide whether or not Andres Bonifacio is guilty or not guilty of treason. Serving as the narrator of the film is theater actress Mailes Kanapi.


Donor (previously titled Isang Pirasong Buhay) by Mark Meily

In her desire to work abroad, Lizette (Meryll Soriano), a seller of pirated DVDs, decides to sell her kidney to a wealthy Arabian kidney patient. When a law is announced banning organ transplants between Filipinos and foreigners, Lizette agrees to marry the Arab--a man she has never met--for the surgery to push through. Her live-in boyfriend Danny (Baron Geisler) is open to the idea of her selling her kidney so he could earn a commission as well.


Pink Halo-Halo by Joselito "Jay" Altarejos

Natoy (Paolo Constantino), like any other child, finds joy and excitement in the simplest of things--especially in eating halo-halo filled with pink gelatin and red sago. Things change suddenly when, as he is watching television, a news report about the ongoing war in Mindanao shows footage of a badly wounded soldier waiting for rescue. That soldier -- almost bleeding to death, was his father, Corporal Lino Bolante (Allen Dizon).
ADVERTISEMENT - CONTINUE READING BELOW

This starts his journey as he and his mother, Sonia (Angeli Bayani), wait for help that comes too late. As far away as the war, this story does not just show how the war in Mindanao robs a child of his innocence, but also shows the shadows of the wars that Filipino homes confront everyday. Direk Jay shot his film in his hometown Ticao Island in Masbate, an impoverished area where men sign up with the Army as a way of escaping poverty.


Sigwa by Joel Lamangan

This period film recounts the untold stories of the horrors and sins of an abusive regime.

At the height of First Quarter Storm in the '70s, a Fil-Am journalist named Dolly (Megan Young) is sent to the Philippines to write a story on student activism in Manila. She meets with Eddie (Allen Dizon), Cita (Pauleen Luna), Oliver (Marvin Agustin), Azon (Lovi Poe) and Rading (Jay Aquitania). She becomes a convert of the cause and also falls in love with Eddie.

On the eve of Martial Law, the government launches a pre-emptive strike on the student leaders and Oliver is arrested. He reveals the location of his comrades, including Cita, his girlfriend.
They are able to escape and live in the mountain lair of guerillas. Eddie confesses that he is a deep-penetration agent who is tasked to infiltrate the group. Dolly is shocked by his revelation and cannot find it in her heart to forgive him.

Soon, government troops find their lair and the activists are captured--Rading is tortured while Azon is raped by military men. Dolly and Azon are both pregnant but only Azon is able to escape with their babies. Dolly is deported and she is forced to leave behind her child.

Thirty-five years later, Dolly (now portrayed by Dawn Zulueta) comes back to the Philippines to search for her daughter and her former comrades.


Two Funerals by Gil Portes

A mother (portrayed by Tessie Tomas) travels from Tuguegarao, Cagayan in the north to Matnog, Sorsogon in the south in order to retrieve the body of her daughter (portrayed by Princess Manzon). She is joined by her daughter's fiancé (portrayed by Xian Lim) and workers of the funeral parlor (portrayed by Epy Quizon and Leo Mier). Jon Avila is also cast in the film as a congressman who helps the mother find the body of her daughter.

Along the way, viewers will be able to see Holy Week traditions in Quezon province such as the Misa de Silencio wherein women wear veils as they simulate the burial of Jesus Christ.



The 6th Cinemalaya Philippine Independent Film Festival will run from July 9 to 18, 2010 at the Cultural Center of the Philippines. Tickets for Cinemalaya 2010 are priced at P150 per film, and P75 for students. The Awards Night will take place this Sunday, July 18, 7pm at the CCP Main Theatre.


(CLICK HERE to view the screening schedules of this year's Cinemalaya entries)
ADVERTISEMENT - CONTINUE READING BELOW