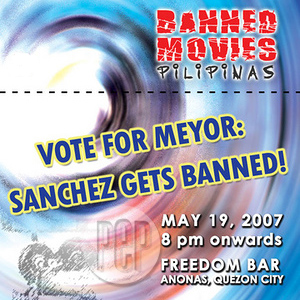 ---
Banned Movies Pilipinas, anindependent film and music vehicle and home of indie film premieres, will holdits May screening entitled "Vote for Meyor: Sanchez Gets Banned!"
Select films of SeymourBarros-Sanchez, popularly known as "Meyor," will be shown on May 19 at FreedomBar in Anonas Quezon City. The one-night only event will premiere his latest film Size Mediumof the Shorts trilogy as well as his other films.
"Vote for Meyor: Sanchez Gets Banned!" also showcasestalented indie acts Los Chupacabras, Delacrus, Lem's Guitar, Morigan, solo actPaw Navarro, Jeffplane, Hoodlums in Robe, and many others.
Seymour is an engineer, a professor, a writer and anadvocacy filmmaker. The former Editor-in-Chief of the Philippine Collegian ofthe University of the Philippines is also the founder and adviser of the University of Makati Film Society where he isan instructor for the Center for Performing and Digital Arts. He has honed his writing skills to direct and co-write severalfilms that reflect not only his talent but his passion for advocacy.
ADVERTISEMENT - CONTINUE READING BELOW
His film Lababo (KitchenSink), co-written and directed together with Ginalyn Dulla, coverssignificant dates concerning the Philippines' relationship with the UnitedStates. Parallel to these events are the lives of two Filipinas (Nerissa Icotand Virnie Tolentino) who fall for the same American soldier (Stephen PatrickMoore).
Locally, Lababo was in exhibitionat the 8th Cinemanila International Film Festival and won Grand Prize at theViva-Pinoy Box Office (PBO) Digitales Short Film Competition. It has alsocompeted abroad for the the 48th Bilbao Film Festival in Spain, a firstnomination for the country, and the 8th International Panorama of IndependentFilm and Video in Athens in Greece. In addition, it was in exhibition at theJakarta Slingshortfest.
Pagbugtaw (Waking Up) tells thestory of a city-bred man who remembered his father, a native of Guimaras, amidthe prevalent water pollution, oil-driven US war against Iraq, series of oilprice hikes and the largest oil spill in Philippine history. He wakes up fromhis apathy and decides to take action for good. The film forms part of theanthology Guimaras: Short Films from the Oil Spill.
ADVERTISEMENT - CONTINUE READING BELOW
Yet another film, Sinulog forBeginners, won second prize at the 2006 Sinulog Video DocumentaryCompetition.
Tickets are sold at P100 each. Forticket inquiries, please call 0917-3705454
Screening Date: May 19, 8 p.m. onwards

Venue: Freedom Bar, 2nd Level, AnonasCommercial Complex, Anonas St. corner Aurora Blvd., Quezon City