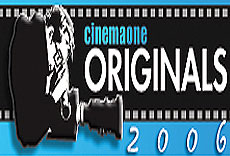 ---
The Cinema One Originals film festival is conducted yearly to encourage the creation of original, full-length films. Cinema One is owned by Creative Programs Inc., ABS-CBN's own cable program network.
Filmmakers whose works were included in this year's competition were given a production grant of P700,000.
The seven entries are vying for Best Picture, Actor, Actress, Director, Screenplay, Cinematography, Editing, Sound and Production Design awards. Aside from these, the movies will also compete for the Audience Award, which has a cash prize of P100,000. Meanwhile, the film adjudged as the Best Picture has a corresponding cash prize of P200,000.
The seven digifilms in competition are:
1. Huling Balyan ng Buhi
Drama starring Bembol Roco
Written and directed by Sherad Anthony Sanchez
An over-protective Balyan (also known as Babaylan) named Idang of the Buhi Tribe performed her last miracle—a stigmata, a supposedly Catholic miracle. The eldest, the priest and her family now face a dilemma—either to keep her final miracle a secret to save their tribe or reveal it—making their tribe vulnerable to fate and a religion susceptible to doubt.
ADVERTISEMENT - CONTINUE READING BELOW
2. Metlogs
Comedy directed by Cris Pablo
Starring Paolo Ballesteros, Tyrone Perez, Marky Lopez, Chocoleit and K Brosas


Short for metrosexual jologs, Metlogs is about three men who left their provinces to try their luck in Metro Manila. These young men labeled as "bagong salta" include Joven, a talented dance instructor who pleases women effortlessly; Rodel, a working student trying to finish college to liberate himself from his oppressive past; and Cris, a salesman, who tries too hard to level with his rich and classy lover.
3. Pandanggo
Trilogy drama directed by Dennis Empalmado, Wilfred Allen Galila and Ruelo Lozendo
Starring Chin-Chin Gutierrez, Raymond Bagatsing, Jake Macapagal, Roeder and introducing Dominique
Pandanggo has three stories with parallel themes converging in one event—the Kasilonawan Festival in Obando. The trilogy digifilm has three segments: "Sayaw ni Aling Espie," about a wife who wants to get pregnant by dancing in Obando; "It Takes Two to Tango," about a woman learning to dance the tango and is torn between her dance classmate and live-in partner; and "Agogo Macabago," which is about a woman who is about to tap an ancient lore about fertility.
ADVERTISEMENT - CONTINUE READING BELOW
4. Raket ni Nanay
Drama directed by Lawrence Fajardo
Starring Sarsi Emmanuel and Mark Gil
In order to save her child, a mother agrees to pose nude for a one shot big pay-off painting session. But what terrifies her more is the fact that the painter is the ex live-in partner she abandoned. With no other options and a compensation she couldn't refuse, the mother must face the ghost of her past.
Winner: Best Actor Award for Archie Adamos, 2006 Cinemanila Digital Lokal Competition
5. Rekados
Drama on food and love written and directed by Paolo Herras
Starring Meryll Soriano, Eula Valdez, Ana Capri and Boots Anson-Roa
This tragicomedy features the parallelisms between three generations of women who are both empowered and imprisoned by their cooking. Josefina, the matriarch, is a traditionalist whose skill in cooking has kept their family intact; Laura, her daughter, a headstrong woman who cooks to please her customers and the men she desires; and Pinay, the dutiful granddaughter, who is caught between these two major influences in her life. Typical Filipino dishes such as adobo, kare-kare, dinuguan, and pansit become central to the lives of these women.
ADVERTISEMENT - CONTINUE READING BELOW
6. Rome and Juliet
Drama directed by Connie Macatuno
Starring Mylene Dizon, Andrea del Rosario, Rafael Rosell, Glydel Mercado and Tessie Tomas


This provocative love story follows the romantic journey of two straight women plunged into forbidden love. Juliet (a conservative pre-school teacher) is a bride to be who befriends and hires Rome (a liberated businesswoman) as her wedding planner. As they go through the preparations, Rome and Juliet develop a deep friendship, a soulful connection and a romantic relationship that create a huge scandal after the groom himself shockingly discovers the truth.
7. Seroks
Mystery drama-thriller directed by Ed Lejano
Starring Juliana Palermo, Neil Ryan Sese, Lauren Novero, Mystika and Ma. Isabel Lopez
Set in the vibrant district of Recto, this intriguing mystery drama-thriller takes place in a boarding house above a Xerox shop aptly named as Seroks. The movie makes use of the film noir style and fuses elements of the thriller, in order to convey a recurring pattern of duplicating elements that reflect the film's title.
ADVERTISEMENT - CONTINUE READING BELOW
Venue: Robinsons Galleria Indie Sine Theater (Cinema 8)
Screening schedule:


November 24 Friday
11:00 am Raket ni Nanay
12:30 pm Pandanggo
03:00 pm Rekados
05:00 pm Seroks
07:30 pm Rome and Juliet
09:50 pm Metlogs
November 25 Saturday
11:00 am Metlogs
01:00 pm Seroks
03:30 pm Raket ni Nanay
06:00 pm Rome and Juliet
08:15 pm Rekados
09:50 pm Huling Balyan ng Buhi
November 26 Sunday
11:00 am Raket ni Nanay
12:30 pm Huling Balyan ng Buhi
03:00 pm Rome and Juliet
05:30 pm Pandanggo
08:15 pm Metlogs
09:55 pm Seroks