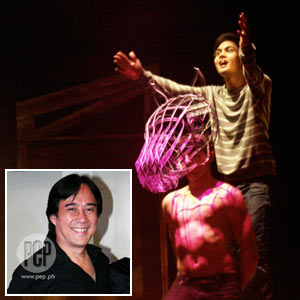 ---
There is a big reason why Equus director and Talentadong Pinoy resident judge Audie Gemora wants to keep the play a closely guarded performance.
The first is that the theater group and the local government of Makati is making sure that only persons above the age of 18 years old get to watch the performance. It's probably the first time that one has heard of a play that has a "R-18" rating. The play shows some nudity thus the necessity for the rating.
It created buzz back in 2007 when Harry Potter lead star Daniel Radcliffe, who was only 17 years old, essayed the lead role of Alan Strang in Equus at the London production and proceeded to do it on Broadway a year later. That nude scene itself was about 10 to 15 minutes long and one has to portray a certain naïveté during the scene.
The production itself is being guarded closely by ushers and bouncers to make sure that no person is recording the play and gets leaked out on YouTube. This ensures that the viewers really get to appreciate the depth of the play as to how playwright Peter Shaffer had written it 40 years ago. The play itself is difficult to digest but fleshed out properly by Marco (who will alternate with Red Concepcion for the main character Alan Strang).
ADVERTISEMENT - CONTINUE READING BELOW
In his director's notes, Audie suggested to Rep's Baby Barredo and Joy Virata that they to do a revival of Equus. It was 37 years ago when Repertory first staged the play at the Insular Life Theater with Jose Mari Avellana and a young Leo Martinez delivering a gripping performance. Audie also has this frustration of not being able to portray Alan Strang in a CCP production that was aborted in 1980.
Audie said that there was no hesitation on his part to direct this production but he had a more difficult part casting the person in the lead of Alan Strang way back in February.
"You would think that in the year 2010, with so many young people into theater there would be a bee line for the Alan Strang role. It was like grasping at straws. After several round of auditions, I cast someone promising only for him to back out when confronted with the nude scene," Audie said in his Director's Notes.
ADVERTISEMENT - CONTINUE READING BELOW
But Audie came away with two gifted young actors in the end.
There's Red Concepcion, the older brother of singer-actor Sam Concepcion, and has portrayed a variety of characters in his theater career. He last appeared Rep's Sweeney Todd and Romeo and Bernadette.
It was already the last day of auditions for Equus when Marco Mañalac read for the part. The former commerical and ramp model is currently one of the 12 finalists of the MYX VJ Search 2010. (CLICK HERE to read related article)


Audie described him as "a complete neophyte who turns out to be quite brilliant."
RAW TALENT. "Marco has never acted before," Audie told PEP (Philippine Entertainment Portal) after the preview of the production last Thursday, July 8.
"Maraming nag-audition na mga beteranong actors. There were young actors as well. But I was looking for something that was edgy and raw. So, when he came in na walang ka-expe-experience, I said this guy has it," he disclosed.
ADVERTISEMENT - CONTINUE READING BELOW
Audie revealed that Marco long been a STAGES talent, the talent agency that Audie heads.
"Modelo siya dati noong mga 13, 14 years old siya. Tapos nawala siya. Noong nanood ako ng Percy Jackson [and the Lightning Thief], kamukhang-kamukha niya. Sabi ko kay David Cosico, 'David, nasaan na ba iyong si Marco Mañalac?' So hinanap ni David. Tamang-tama at wala pa ako mahanap, dinala niya sa auditions."
The director, though, had his apprehensions, "Yung lang talaga was that, 'will he make it?' 'coz there was more to that than raw acting. Kailangan siya matutong umarte. Nag-umpisa siya, he didn't even know how to act. Yung tipong magsasabi siya ng line niya at maghihintay siya at saka pa lang siya aarte. But in just a mater of two and half weeks, nakuha niya iyan."
Audie even added that there was a great chemistry with the two lead actors of the play, Marco as the newbie and theater veteran Miguel Faustmann (also of TV's Tayong Dalawa fame) playing psychiatrist Martin Dysart.
ADVERTISEMENT - CONTINUE READING BELOW
"Marco is sparring with a veteran. The most veteran of them all is Miguel and you have Marco as the newbie. Ang ganda kasi ng bangayan."
Audie added, "I wanted a boy who is very close to the age of 17, Kasi mahahalata mo dahil iba na ang galaw. The other boys who auditioned were 24, 25. Iba na. There's maturity na and there's a certain stillness. Si Marco, may awkwardness talaga. Kapag na-touch siya ng girl, nag-re-react siya talaga na parang turn-on na ayaw. He has all the qualities I was looking for."


SYNOPSIS. Psychiatrist Martin Dysart is brought the most challenging case of his career. Alan Strang seems like a normal seventeen year old. His life appears routine and his family loving. However, Alan's passion for horses and an encounter with stable hand Jill has led him to behave in the most devastating way. Dysart must discover why this severely troubled teenager has gouged out the eyes of six horses with a hoof pick. Dysart slowly realizes that Alan has evolved his own bizarre religion, in which horses are his gods--and has enacted a strange Passion Play.


Only Dysart seems able to grasp the answer to this psychological puzzle. He understands that to cure the boy, he must take from him the richest and most profound experience of his life. The boy's fierce passion forces Dysart to recognize the barrenness and aridity of his own existence.
ADVERTISEMENT - CONTINUE READING BELOW
Repertory Philippines' Equus opened last July 9 and will run until July 25 at the Onstage, Greenbelt 1. Playgoers who will watch the July 25, 8 pm show will have the chance to party with Marco and other cast members. For inquiries and tickets, please call 0917-5420015 or 887-0710.